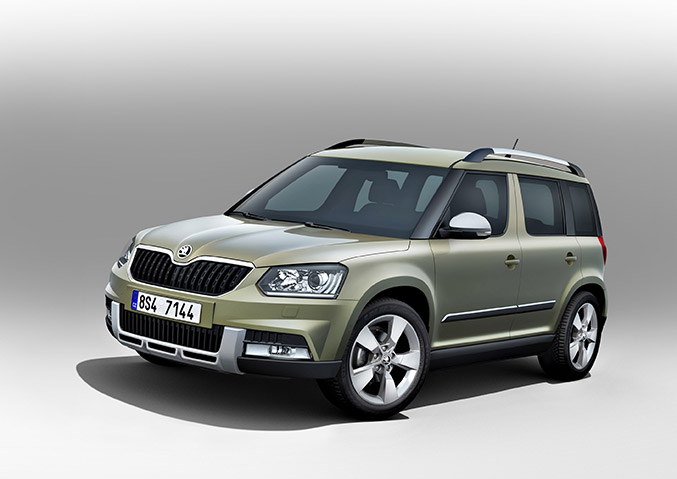 SKODA AUTO further increases the pace of new model introductions. At this year's International Motor Show in Frankfurt am Main, held from 14th to 22nd September, the brand will unveil two world premieres: the new SKODA Rapid Spaceback, and revised SUV SKODA Yeti – for the first time in two separate design lines. With these cars, SKODA AUTO continues with the biggest model offensive in its history. In this year alone, the brand will launch eight new or revised models. Before 2018, SKODA AUTO wants to increase its annual sales to at least 1.5 million new cars.
"At IAA, we are going to demonstrate the power of our brand – both with brand new Rapid Spaceback compact family hatchback, and substantially revised SUV Yeti which will now come in two separate design lines, and with our refreshed and expanded model line as a whole," says SKODA chairman of the board Prof. Dr. h.c. Winfried Vahland. "We are carrying on with our growth strategy even when the market is going through rough times. In following years, we are going to further strengthen the position of SKODA brand as an important global player in automotive markets."
SKODA Rapid Spaceback: New class among compacts hatchbacks
With Rapid Spaceback, SKODA expands its offer in a very strong segment of compact family cars. "SKODA Rapid Spaceback is the first compact family hatchback in the history of SKODA, and thus also another milestone in the brand's history," says Dr. Frank Welsch, SKODA head of development. "For the first time, are present in the strongest segment of the European car market."
The fresh and dynamic design connects the Rapid Spaceback to the traditional values of SKODA cars. It differs from competition both in its looks and functionality. The SKODA Rapid Spaceback will captivate observers by its combination of the brand's new design language with highly individualistic character. As a part of the optional equipment, the Rapid Spaceback offers a vast array of individualization options – among others a large panoramic glass roof or extended tailgate glazing. The cabin has a youthful, fresh style: the Rapid Spaceback brings new steering wheels, new upholstery fabrics and new trim.
With its interior space, the new SKODA Rapid Spaceback sets the new standards for the compact family hatchbacks. Rear passengers can enjoy the largest knee- and headroom in this class. Also the luggage compartment is top notch, with its volume of 415 to 1,380 litres. SKODA Rapid Spaceback is a well thought out compact car with many "Simply Clever" solutions. One of the many clever features is the secondary boot floor, which makes it possible to divide the luggage compartment into two horizontal levels. And of course, there is also an ice-scraper under the fuel cap. There are also lots of holders, nets and hooks all around the interior.
The engine range comprises of four petrol and two diesel units. The Rapid model range will also include the GreenLine version with CO2 emissions of just 99 g/km. When it comes to the crew protection, the Rapid Spaceback scores with a large array of both active and passive safety features.
Thoroughly revised SKODA Yeti – now in two design variations
The launch of a revised version on Frankfurt International Motor Show gives a new impulse to the Yeti model range. This popular compact SUV will be available in two design variations from now on. While the model called simply Yeti was designed in the rhythm of a big city, the Yeti Outdoor is playing the adventurous note. In substantial reworking, both variations received all new front and rear parts. The "city" Yeti has also body-coloured bumpers, side protective mouldings and door sill, while the Outdoor variation has these parts made of black plastic.
In both variations, the SKODA Yeti will grab attention with its wide configuration options. For both variations, there are seven different engines available; the option of front wheel drive or all wheel drive with fifth generation Haldex coupling; manual transmissions, or DSG dual-clutch gearboxes. Besides that, the model comes with new designs of light alloy wheels, new interior design features, like steering wheels, new seat fabrics or decorative trim pieces. And there are technical innovations, too: as a first SKODA car, the Yeti can be equipped with a parking camera.
"SKODA Yeti is doing great not only in the showrooms, but also on the roads or in rough terrain," says Werner Eichhorn, member of the SKODA board member for the sales and marketing. "In its revised form, the SKODA Yeti is now even more attractive and versatile. This way, we want to strengthen our market positions even further."
The biggest model offensive in the brand's history has successfully launched
The new SKODA rapid Spaceback and revised SKODA Yeti are the latest additions to the greatest model offensive in almost 118 year history of the brand. This offensive is one of the pillars of the SKODA Growth Strategy, which aims at increasing the brand's annual sales to at least 1.5 million cars by the 2018.
To achieve this, the brand will launch, in average, one new or revised model every 6 months. In its plans, SKODA AUTO also counts on strengthening its position on growth markets like China or Russia. Besides international growth markets, ŠKODA AUTO also increases its presence in Europe, where it wants to grow its market share from current approximately four percent to more than five.
Source: Skoda