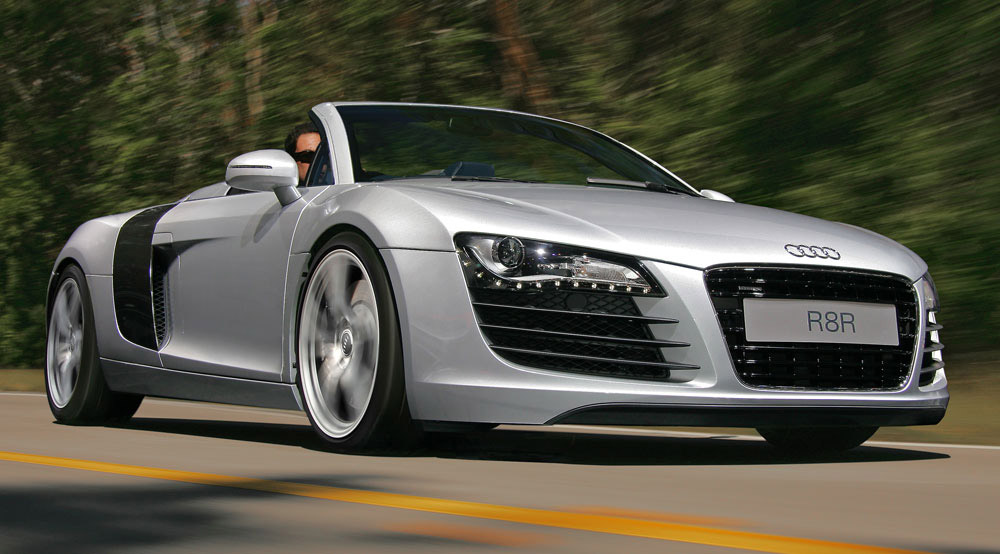 Audi will next year launch this open-top version of its R8 supercar. The Spider is one of a growing choice of R8s – buyers bored of the default 911 will soon be able to pick between two petrols and a V12 diesel, plus coupe or targa bodystyles. It's typical of a car maker not exactly afraid of baffling buyers with extensive choice of engine/gearbox/driven wheels even in its most humdrum ranges.
It's also a logical step as Porsche makes plenty of capital out of the 911 soft-top versions – and the R8 is aimed squarely at that domestic rival. Our artist's impression has been built using the exclusive sketch CAR smuggled out of Ingolstadt last year (image, middle right) and isn't mere fantasy. Expect to see twin speedster humps sprouting above the mid-mounted engine and a subtly truncated aluminium blade ahead of the rear wheels.
Audi R8 Spider: the hood
Our sources in Germany suggest that the roof of the Spider will be a removable targa affair, with detachable panels rather than a canvas hood or folding hard top. Although more flexible, the latter two would be hard to engineer with the mid-mounted engine sitting where you'd need a cubby for the lowered hood and associated mechanism. As most of these cars will be sold in warmer climes of the world's biggest soft-top market (think Florida), targa panels shouldn't worry typical buyers.
Today's R8 coupe costs £78,200 suggesting the Spider will cost nearer £85,000 with the 414bhp 4.2-litre V8 engine option. But there is a raft of engines under development at Audi, creating a supercar range with a car for all tastes.
Engines galore for the Audi R8
Audi has halted R8 development of the higher-powered twin-turbo Lambo V10 from the RS6; there have been fires in prototype development and other options – namely a naturally aspirated V10 – are now most likely. This year's V12 diesel concept car (image, far right) points to the likelihood of a derv sports car, powered by the 6.0-litre bent twelve delivering a traction-troubling 493bhp and 738lb ft. Sounds mad, but Audi is deadly serious about putting this into production.
A diesel Audi sports car that can reach 62mph in 4.2 seconds and top 180mph? Who'd have thought it! But in this marketing-led age, it makes perfect sense: the perfect complement to Audi's racetrack activities and a sop to the eco-brigade (of sorts). It's not going to challenge your A3 TDI for emissions, but the R8 derv concept did have AdBlue technology to clean up its emissions.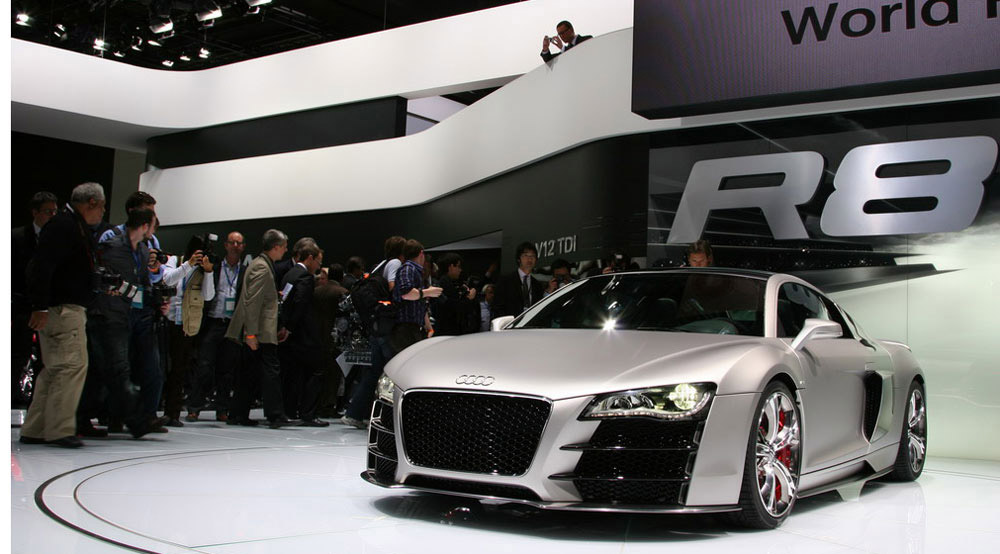 Audi R8: the future
The aluminium sports car has been a smash hit for Audi. There's still a waiting list of at least 12 months in the UK and even the cheapest second-hand versions are selling at above list price; you can't buy a used R8 for less than £80,000 (and that's a left-hooker) while the priciest in the classifieds top £105,000 when we looked yesterday.
Audi hopes to keep the buzz going by gently expanding the range to have three engine options:
• R8: 414bhp naturally aspirated V8
• RS8: 500bhp naturally aspirated V10
• R8 TDI: 500bhp twin-turbo V12 turbodiesel
And two bodystyles:
• R8 Coupe from £78,200
• R8 Spyder from £85,000
An R8 for every pocket, you could say.