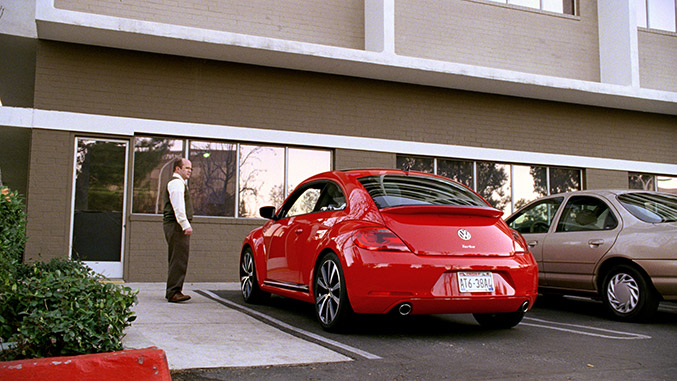 Volkswagen of America, Inc. today unveiled its highly anticipated Game Day commercial. Viewers can catch "Get Happy" on the brand's YouTube® channel before it airs in the second quarter of the Big Game. This is the fourth consecutive year that Volkswagen has advertised on Game Day.
"The Big Game presents an unparalleled creative opportunity to represent the Volkswagen brand," said Tim Mahoney, Chief Product and Marketing Officer, Volkswagen of America, Inc. "We're excited to reveal this year's campaign, "Get In. Get Happy.", which is designed to bring a jolt of happiness to viewers' daily lives."
Volkswagen's 2013 Game Day commercial, "Get Happy" features a man who brightens up his dreary office environment with a positive attitude and inexplicable Caribbean accent.
The 60-second spot builds on Volkswagen's heritage of "human stories, told simply," and will serve as a thematic continuation of the brand's feel good ads including "Smiles," which first premiered last September, and last year's Big Game commercial "The Dog Strikes Back," named by Google as one of 2012's leading ads on YouTube.
"With 'Get Happy,' we set out to create a lighthearted and energetic ad to represent the positive energy and sunny disposition that only the Beetle and Volkswagen can deliver," said Mike Sheldon, CEO, Deutsch LA, Volkswagen of America's creative Agency of Record. "We are thrilled to bring the Volkswagen brand essence to life on America's biggest stage."
Volkswagen teased its 2013 Game Day campaign with a pre-game release on January 24th. "Sunny Side" features well-known YouTube sensations singing along with Rock and Roll Hall of Famer Jimmy Cliff, all learning how to "C'mon, Get Happy."
Jimmy Cliff's latest critically acclaimed album REBIRTH was recently nominated for a GRAMMY award and listed as one of the top 50 albums of 2012 by Rolling Stone.