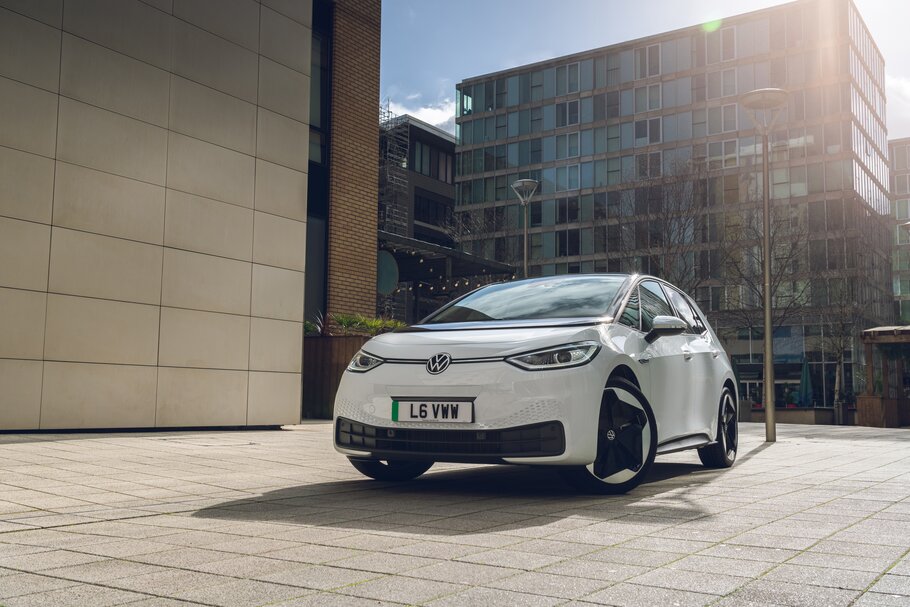 Volkswagen is celebrating a double victory for two of its most important models today, with the ID.3 and Golf picking up prestigious prizes at separate ceremonies, both for their fleet customer appeal. The ID.3 is named 'Best Small Company Car' by Auto Express at its annual New Car Awards, while Fleet News gave the Golf its 'Best Lower Medium Car' title at the Fleet News Awards 2021.
The expert panel at the Auto Express New Car Awards judged the ID.3 against stiff competition to be the 'Best Small Company Car, paying particular note to the model's low running costs, as well as Volkswagen's readiness for the public's switch to electric mobility.
Steve Fowler, Editorial Director at Auto Express, said: "The company car class is changing fast, and no firm has reacted faster to the upheaval than Volkswagen. Not that long ago diesel dominated this sector, but with Benefit-in-Kind bills now favouring the lowest-emissions vehicles, in particular EVs, drivers and fleet managers have been clamouring to make the switch to electric power – and few cars make more sense in the corporate car park than the ID.3."
Meanwhile, on the same night at the Fleet News Awards 2021, the Golf picked up the 'Best Lower Medium Car' title, fighting off tough competition from across the industry. The ID.3 was also praised by Fleet News in this area – being the 'Highly Commended' runner-up for the same award. In other categories at the Fleet News ceremony, the ID.4 was 'Highly Commended' in the 'Zero Emission Car' group, while the Passat took another 'Highly Commended' title when being judged for the 'Best Upper Medium Car' prize.
This latest win brings the total number of UK awards for the ID.3 to 11 since its world premiere in 2019, with trophies celebrating the model's attributes against all rivals, whether powered by electricity or fossil fuels. The ID.3 has drawn acclaim from all over the media for its breadth of appeal. The variety of battery options and trim levels attracts a wide band of customers for which the ID.3 is affordable, thus earning the model – alongside a bustling trophy cabinet – the nickname 'the electric people's car'.
Nick O'Neill, Head of Fleet at Volkswagen UK, said: "This is another great accolade for the ID.3, and the first fleet-focused award to its name. It's fantastic that the model is getting recognition in the company car arena – and confirms the Volkswagen Fleet teams belief that the ID.3 is the most compelling model in its ultra-competitive segment. The Golf's fleet appeal is also undeniable, as its latest award shows, and seeing the Golf and ID.3 take home the top prize plus the Highly Commended title respectively, is all the more satisfying.
"2021 is shaping up to be an exciting year for the brand, and we can't wait to see how exciting upcoming models – internal combustion-engined, plug-in hybrid and electric – and innovations are received by the media and our fleet customers across the second half of the year."