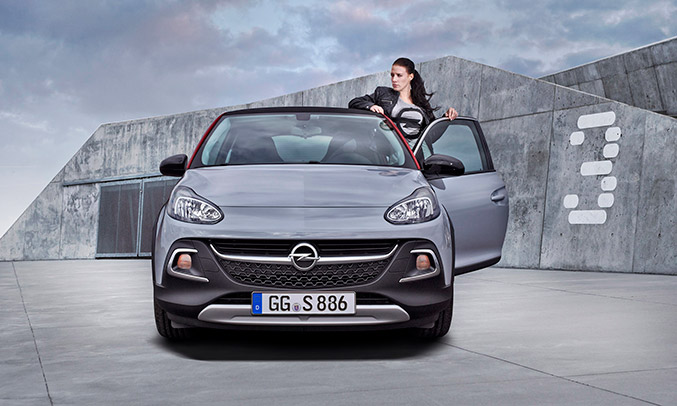 Anything but cute and definitely not slow – the brand new Opel ADAM ROCKS S will celebrate its world premiere at the International Amsterdam Motorshow (AutoRAI, April 17 to 26). With its sturdy, masculine appearance, the Swing Top canvas roof and powerful 1.4-liter turbo ECOTEC engine the 3.75 meters long ADAM ROCKS S will appeal to customers who want to combine dynamic driving outside of the city with thirst for adventure, open air feeling and stylish design.
The powerful 110 kW/150 hp ECOTEC engine with Start/Stop makes do with a mere 5.9 liters of gasoline per 100 kilometers in the combined cycle, which is equivalent to 139 g/km of CO2. It is fitted with a short ratio 6-speed gearbox. Accelerations are those of a small sporty car – 100 km/h are reached in 8.5 seconds – but the ADAM ROCKS S mainly impresses with great elasticity: it makes the transition for 80 to 120 km/h in fifth gear in just 7.9 seconds. Top speed is 210 km/h.
Thus, the ADAM ROCKS S is perfectly equipped for fast and sporty excursions. Furthermore, a specially tuned sport chassis, lowered by 15 mm compared to the ADAM ROCKS, and a direct sporty steering increase driving pleasure especially on winding country roads. A high performance braking system and an ESP system that can be deactivated offer ambitious drivers the possibility of safely pushing the rock and roll athlete to its limits.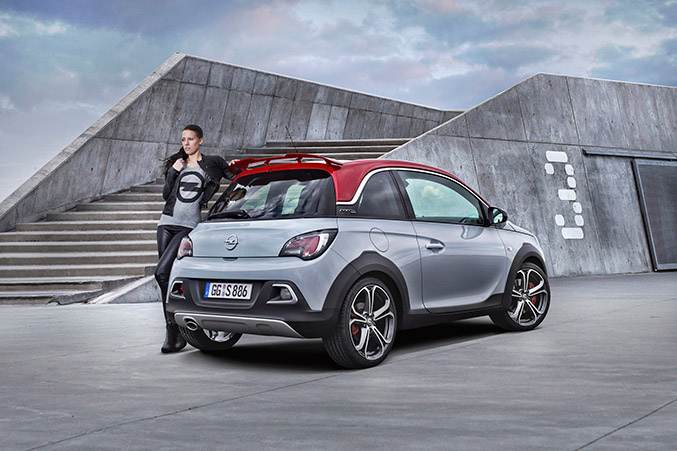 "The combination of it's rugged, adventurous looks, plus it's sharp sporty performance gives the ADAM ROCKS S its very own unique personality," said Mark Adams, Opel's Vice President of Design. "The typical protective cladding and the strongly defined contours of the side sills give it a purposeful appearance with the engine and the chassis delivering pure driving pleasure," added Niels Loeb, chief designer of the ADAM ROCKS S
Ready to rock: Individual design with sporty touch
ADAM ROCKS S combines its rugged individuality with open air fun. The standard Swing Top canvas roof gives quick access to the sky above. It is electrically operated via a button located in the front area of the headliner and folds back in just 5 seconds. ADAM ROCKS S is firmly planted on the road with wide front and rear tracks (1,472 and 1,464 mm respectively) that give it a lot of presence. Its' special sportswear is composed of an extended rear bumper cut-out with a visible, bold exhaust tailpipe and an unmistakeable rear spoiler planted on the roof.
To enable everybody to customize the looks of their own ADAM ROCKS S according to their own taste, there is a total of eleven body paint choices that can be combined with five roof colors including the new, vibrant, 'Red 'n' Roll' that is exclusively available for the S models of the ADAM family. As an option, the 'Red 'n' Roll' color theme can also play a dominant role in the sporty interior and it gives the optional leather package with seat and steering wheel heating a special touch.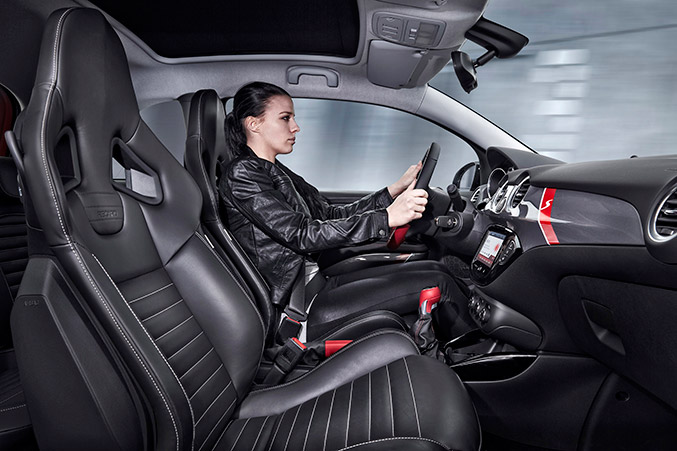 Modern Opel technologies and outstanding connectivity
Parking in the city becomes child's play when the ADAM ROCKS is fitted with the optional Advanced Park Assist. At speeds below 30 km/h, the system identifies suitable parking spaces and automatically parks the car. Advanced Park Assist always comes with Side Blind Spot Alert. It uses the ultrasonic sensors to warn the driver of an imminent collision when changing lanes. Side Blind Spot Alert works in speeds ranging from 11 km/h to 140 km/h.
And even the most dynamic driver will not have to miss out on all-round connectivity in the ADAM ROCKS S with Opel's IntelliLink infotainment systems bringing the world of smartphones, both Android and Apple iOS, into the cabin.
Source: Opel