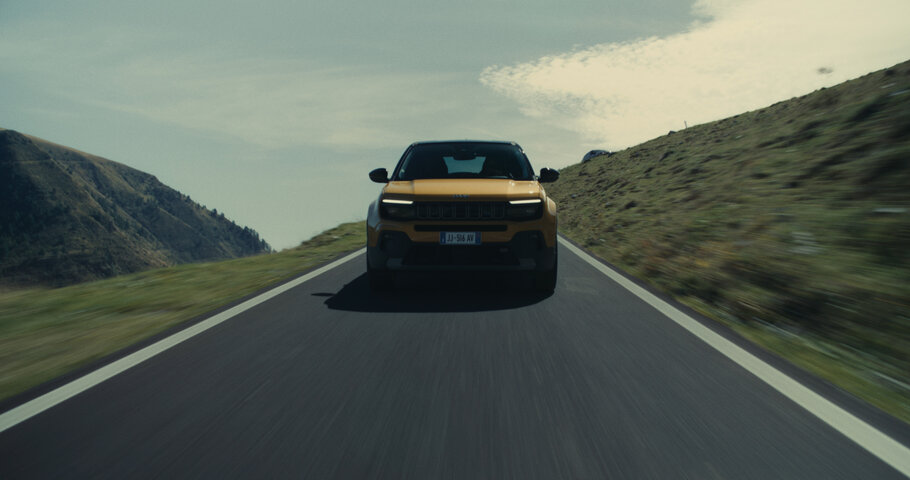 Rabea Schif – German presenter, creative consultant, and fashion expert – will accompany influencers in the three episodes. She will go on an adventure filled with music, freedom, and fun. The ideal companion for this adventure could only be the new Jeep Avenger. A pure expression of "concentrated freedom", it encapsulates, in a compact SUV, electrification and advanced technology. Thanks to an autonomy range of up to 250 miles up to 342 miles in city range* and an easy, fast charging mode**, it is the perfect tool for a modern customer who looks for silent, fun and pleasant driving freedom.
The first episode takes place in the setting of the Dolomites. It starts off in two distinct but connected settings. In the first scene Leonardo Fioravanti, one of Europe's most talented surfers and lover of nature – selected to compete for Italy in the Tokyo Olympic Games – is excited about the Jeep road trip. At the same time, the episode introduces the audience to Rabea, as she drives the new Jeep Avenger and heads toward Leonardo. These two distinct ways of conceiving freedom – the freedom to drive anywhere and the freedom to feel comfortable in nature – come together and create a strong connection.
Then, the road trip begins which leads the two protagonists to get to know each other and discover the many features of the new Jeep Avenger: from Level 2 autonomous driving to advanced safety and connectivity systems. In addition, the new SUV ensures a fully digital on-board experience thanks to a 20.5-inches total displays surface area, which helps to keep all on-board info under control. It also offers a suite of services and functionalities that users can take advantage of remotely. Thanks to the Jeep Mobile App, for example, Rabea and Leo find the nearest charging station where a pleasant surprise awaits them: charging will be really quick and easy. In fact, the Jeep Avenger has a new generation electric propulsion system which combines a new electric motor and a new battery. Using a 100 kW Mode 4 cable in direct current connected to fast public charge, three minutes of charge is enough to provide a travel distance of 19 miles. Also, 24 minutes are sufficient to charge the batteries from 20 to 80% charge. In addition, the 54 kWh battery ensures a range of up to 250 miles in the WLTP cycle, which becomes 342 miles in the urban cycle.