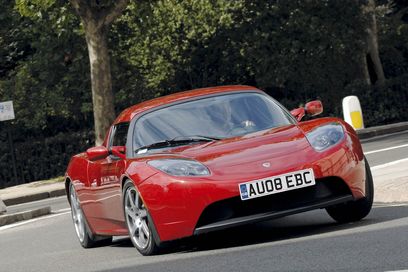 Supercar-quick electric stunner takes alternative-powered vehicles to a new level.

It's the electric American dream! Powered solely from the mains supply, the Tesla Roadster does not emit any nasty gases, travels more than 220 miles on a charge, yet accelerates like a Ferrari – and Auto Express has driven it.
If the car looks familiar, that's because it's based on Lotus' Elise – and the British firm has even helped develop it. However, the Tesla is much more than a modified Elise. The body is made of carbon fibre and, while the front suspension is carried over, it's all change at the rear to accommodate a lithium-ion battery pack and 250bhp motor.
Elise owners will recognise the cabin's slim seats and simple dash, but not the display showing how much charge is left in the batteries and the auxiliary screen indicating their performance.
Twist the key, select drive and you're off, accompanied by a jet-like whoosh! Despite weighing 300kg over an Elise, the Tesla is incredibly fast: 0-60mph takes a mere 3.9 seconds, making it as rapid as a Ferrari F430. It's all thanks to the electric motor, which delivers 380Nm of torque instantly.
With a lot of weight over the rear wheels, traction is incredible and the car feels rooted to the road through corners. The driving experience is just as much fun as in an Elise. Even better, in electricity terms the Tesla costs around 1.5 pence per mile, while the batteries last 100,000 miles and are recyclable, too.
There are a few stumbling blocks, though. Charging takes 16 hours, while the £92,000 tag makes the Roadster as costly as an Aston Martin V8 Vantage. Still, the next arrival from Tesla, due in 2010, will be a little more affordable – a £40,000 sports saloon. There are also plans for a city car similar to the VW up!
In the meantime, despite the price, Tesla should easily sell the 250 Roadsters allocated to Europe – so far, 20 have been snapped up by UK buyers. This is the first electric car to be truly desirable – and with technology that actually works, the future looks bright for the company.
Rival: Lightning GT
You can't buy this Brit car until 2009, but the rakish coupé should be worth it. With in-wheel electric motors, its maker claims it offers 700bhp-plus, hits 0-60mph in 4.0 seconds and can be charged in 10 minutes.