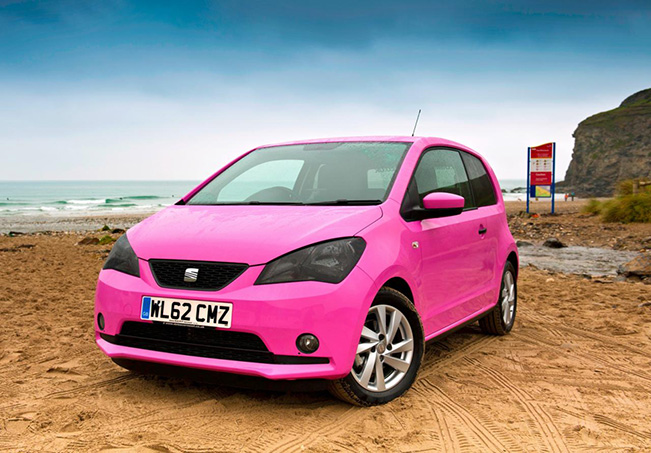 Newton's Third Law of Motion states that for every action there's an equal and opposite reaction.
On that basis, the bright pink Mii Miinx is a force of nature – it's the equal and opposite reaction to the 'black viper' Mii Vibora Negra, unveiled by SEAT back in July.
The Miinx is the work of Cornwall dealership Dales SEAT, and was created as a one-off show car after Sales Manager Tom Rawlings decided one evening that he fancied doing "something different".Work began immediately, with the dealership choosing a Mii Sport in Deep Black metallic as the basis for the as-yet-unnamed car.
The Mii's bodywork was covered in a pink gloss vinyl wrap, while the lights were tinted with a translucent film, resulting in a more pronounced, contrasting look.
Once the wrap had been applied, Dales posted a picture on Twitter and asked for some name ideas. 'Miinky', as it was for a while, generated plenty of discussion, though eventually the Miinx sobriquet was settled upon. 
Aside from the wrap, the Miinx is a standard three-door Mii Sport. That means power comes from a 1.0-litre, three-cylinder engine with 75 PS and it gets a generous standard equipment list including 15-inch alloy wheels, air conditioning, leather steering wheel and gear knob, dark tinted rear windows, front fog lights, and sports suspension.
The Mii Miinx is a very compact way of making a very big statement – and with an RRP of £11,500, it's a cost-effective one too. It's also charitable, with Dales planning to give £100 to the Breakthrough Breast Cancer charity for every car sold.
"One thing's for sure – the Miinx is a car that always provokes a strong reaction, good or bad," said Tom Rawlings.
"We've been absolutely overwhelmed by the response to the special edition since we launched it. From the day we first parked it outside our showroom, people have made a point of coming in to tell us what they think.
"The car's also divided opinion on Twitter. I tweeted a photo and within minutes hundreds of people were commenting about it. But we couldn't believe it when people from all over the place started calling the dealership to enquire about the car. We've obviously done something right," he added.
Dales has received a raft of enquiries about the Miinx – one from as far afield as northern Scotland – and has consequently begun taking firm orders.
Every Miinx sold will come with the SEAT Portable System included – the removable multimedia device that SEAT is currently giving away free with cars bought using SEAT Solutions finance.