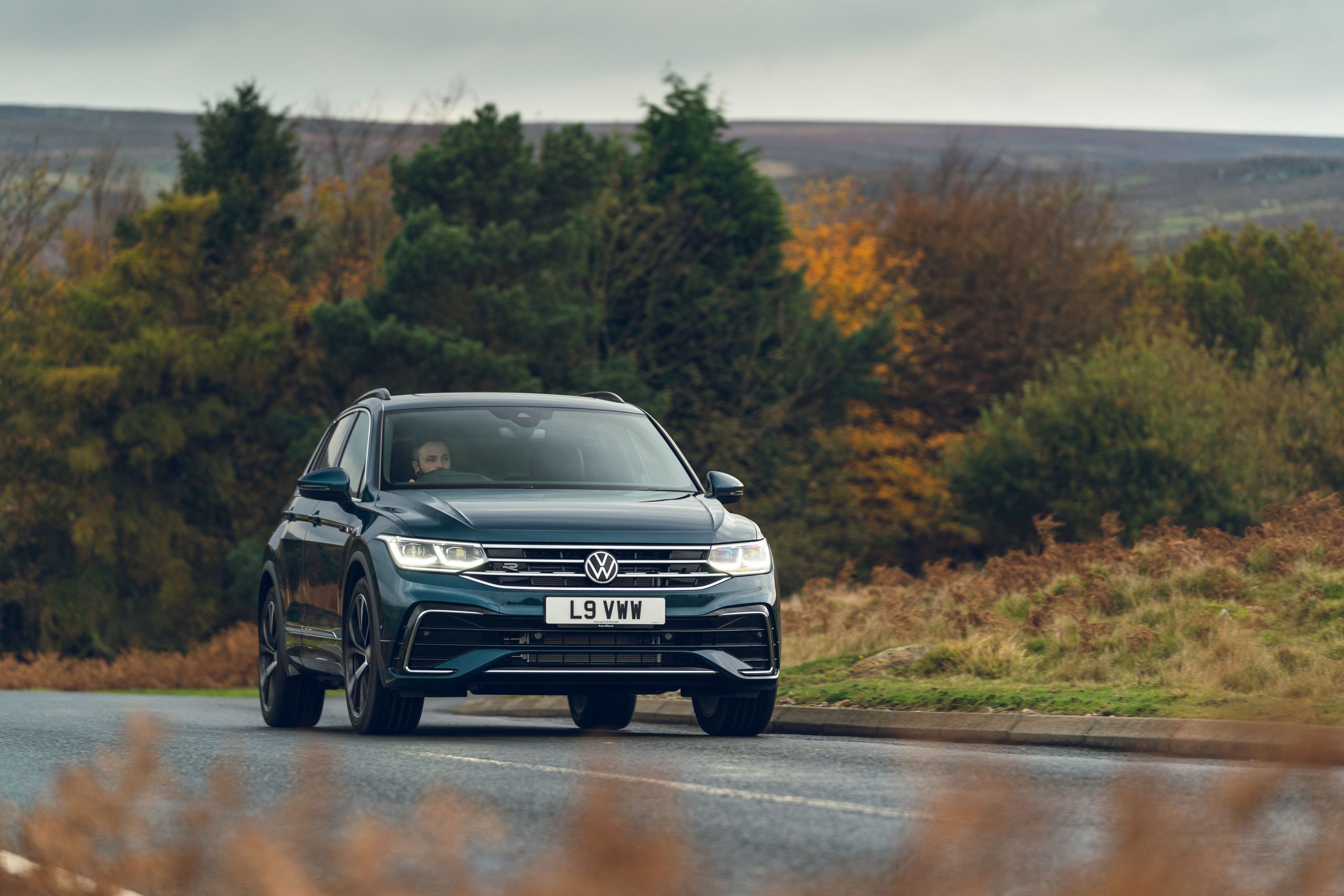 The Tiguan's two new engines – both turbocharged 2.0-litre petrol units – are the most powerful petrol powertrains in the range yet, offering 190 PS and a range-topping 245 PS, with 320 and 370 Nm of torque respectively.
The 190 PS engine's power peak is available between 4,180 and 6,500 rpm, while the more powerful of the duo reaches its maximum output between 4,750 and 6,500 rpm. Both engines deliver their highest torque figures in a remarkably accessible fashion, between 1,500 and 4,300 rpm. This equates to brisk 0-62 mph acceleration of 7.4 seconds and a 133 mph top speed for the 190 PS model, and 6.0 seconds for the more powerful 245 PS unit, which tops out at 142 mph, where permitted .
Suiting the high output of the powertrain, the Tiguan 190 PS 4MOTION is available in high-spec Elegance and R-Line trim levels, with WLTP combined cycle fuel consumption figures of 33.2 and 34.0 mpg respectively, and CO2 outputs of 194 and 189 g/km. The 190 PS-equipped Tiguan starts at £36,275 RRP OTR in Elegance trim. Befitting the sportier side of the Tiguan's personality, the 245 PS 4MOTION powertrain is available exclusively in the more visually assertive R-Line specification, and has figures of 32.1 mpg and 200 g/km of CO2. This current Tiguan range-topper starts at £39,560 RRP OTR.
Its top speed and acceleration figures mean that, for now, the Tiguan R-Line 2.0 TSI 245 PS 4MOTION is the performance flagship of the Tiguan range. That is until the arrival of the R-division fettled Tiguan R, which will represent a first for the Volkswagen brand: the Tiguan R being the first time the top-selling SUV has been bestowed with a stand-alone performance trim. Further details on the Tiguan R will be released in due course.
Hannah Doherty, Tiguan Product Manager at Volkswagen UK, said: "One of the key ingredients for any SUV is capability, whether it's the ability to venture off-road, provide space for five people and their luggage, or even just stand up to the daily trials of family life.
"With this powerful duo of petrol engines, the Tiguan is more capable than ever – offering space, power, quality, flexibility and the road-holding (or off-roading) prowess of 4MOTION four-wheel drive. Increasing choice for customers for Volkswagen's best-selling SUV is also a big boost!"