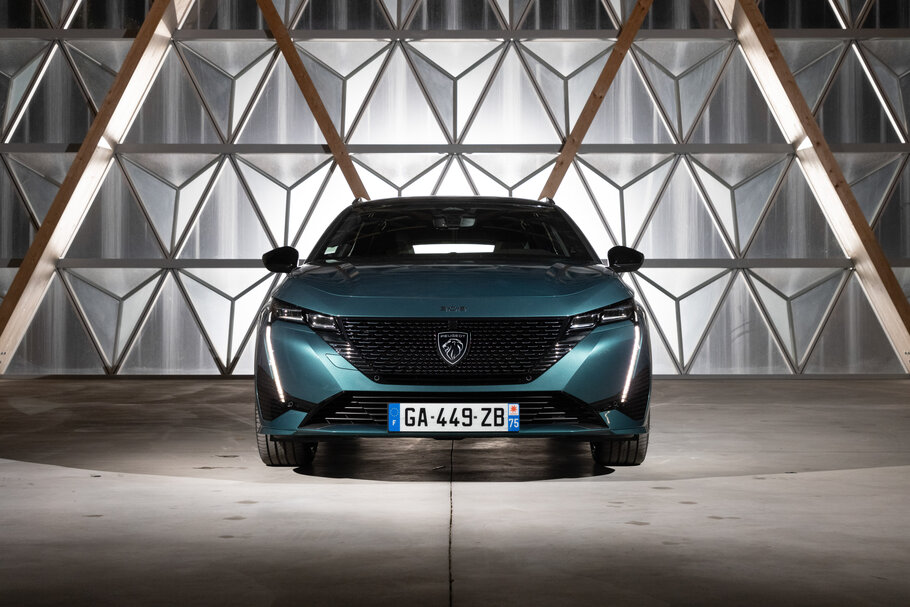 PEUGEOT has opened order books for the new 308 and 308 SW, with finance offers now available and first deliveries expected in 2022. The new PEUGEOT 308 and 308 SW are available with plug-in hybrid powertrains for the first time, alongside advanced petrol and diesel variants, with prices starting from £24,000 for the new 308 and £25,200 for the new 308 SW.
Customers can benefit from competitive finance offers on the new 308 and 308 SW with the new PEUGEOT 308 1.2-litre PureTech 130 in Allure trim available on Personal Finance Lease* from as little as £299 per month for a 48 month contract, with an initial payment of £2,099. The new 308 HYBRID 180 Allure will be available from just £349 per month over the same contract length with an initial payment of just £2,599.
The new PEUGEOT 308 and 308 SW are available with a choice of two plug-in hybrid powertrains from launch, both powered by a 12.4kWh battery and a 1.6-litre petrol engine. The HYBRID 180 variants of both body styles are capable of an Equivalent All Electric Range (EAER) of over 40 miles, meaning both models attract only a 7% Benefit-in-Kind (BIK) rate (2021-22), and making the new 308 and 308 SW ideal for fleet and company car buyers.
All plug-in hybrid variants come with a 3.7kW on-board charger as standard, with buyers able to add a faster 7.4kW charger as an option. A full charge using a 7.4kWh Wall Box charger will take just 3 hrs 50 mins, while the optional 7.4kW charger reduces this to 1 hr 55 mins.
The new 308 and 308 SW are also available with advanced petrol and diesel engines, giving customers the complete 'Power of Choice', with a powertrain to suit any requirement. The 1.2-litre PureTech 130 petrol and the 1.5-litre BlueHDi 130 diesel both produce 131hp, while all 308 models are available exclusively with PEUGEOT's 8-speed Efficient Automatic Transmission.
Julie David, Managing Director, PEUGEOT, UK, said: "With plug-in hybrid options available for the first time, the new 308 and 308 SW are the next step in our strategy to provide electrified variants across our entire model range by 2024 – giving buyers the choice to suit the powertrain that best meets their needs."
At the front, the new PEUGEOT 308 is the first model to wear the new PEUGEOT emblem, a roaring lion's head inside a new shield-shaped logo, which also houses the radar sensors used by the autonomous driving aids.
Inside, all models feature PEUGEOT's next generation i-Cockpit® configuration, with a new compact multi-function steering wheel and a 10-inch HD capacitive colour touchscreen featuring PEUGEOT's new i-Connect® infotainment system. This allows up to eight different drivers to set their own personalised profiles and two phones to be connected using Bluetooth at the same time, while the screen mirroring function is now wireless thanks to a smartphone charging plate (from Allure Premium).
The interior also features PEUGEOT's trademark 'Piano key' controls along with the new customisable i-Toggles® (from Allure trim onwards). The row of touch-sensitive Gloss Black toggle switches offers a personalised shortcut key to numerous functions for both a sleeker design and enhanced ease-of-use.
Compared to the new 308, the new 308 SW comes with a 55mm longer wheelbase and a 215mm longer rear overhang for improved space and boot volume. Load volume capacity is 608 litres, extending to 1,634 with the rear seats folded (for petrol and diesel variants).
The new 308 SW features a three-part rear seat configuration with a 40/20/40 split from Allure versions upward, with each rear seat able to fold individually to improve versatility. Objects up to 1.85m can be carried inside the new 308 SW.
New 308 and 308 SW models feature the following safety and driver assistance technologies:
Programmable cruise control and speed limiter
Lane Keeping Assist
Speed limit & traffic sign recognition and recommendation
Driver attention warning
Intelligent Speed Adaptation
Active Safety Brake with pedestrian and cyclist detection
AVAS: Acoustic Vehicle Alerting System (Plug-in Hybrid models only)
Other new technologies include:
360° surround view parking assistance with four cameras (front, rear and both sides)
Long Range Blind Spot Detection up to 75 metres
Rear Cross Traffic Alert: for safe reversing, this feature warns the driver of any obstacles that may be in the car's blind spot
Full Matrix LED headlights – this feature automatically adapts the headlight beams to the traffic conditions, maintaining optimal lighting without hindering other road users
Adaptive Cruise Control with Stop Function – with this new generation, it can be controlled via the steering wheel
The new 308 and 308 SW are available to order and buy from PEUGEOT retailers or via PEUGEOT Buy Online, which allows customers to configure and order their vehicle entirely online with selected finance options or cash purchase.