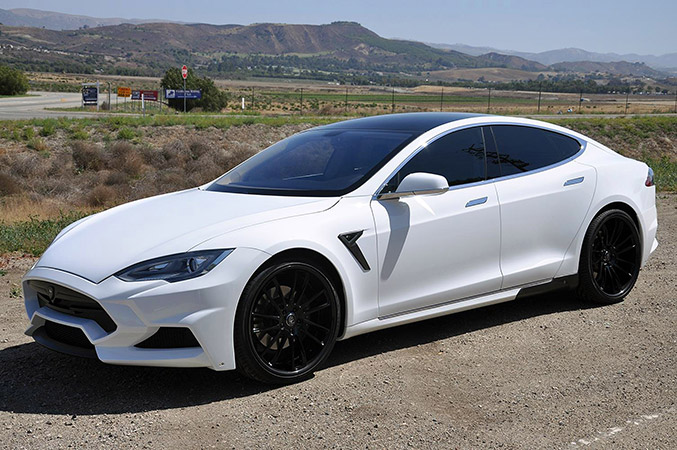 Since the presentation of an amazing bodywork for the Model S, LARTE Design has been recognized as official part of the Tesla world. Now, the premium tuner's white Elizabeta car is even on display at the summit of the Tesla Motor Club in Santa Clara, California, from July 10-12. Participants have the opportunity to take part in networking activities, discussions with EV experts and other compelling events. And of course, they can catch up on the latest tuning possibilities of their Tesla Model S.
The LARTE Design Elizabeta features a lightweight front (5,8kg) and rear bumpers (4,3kg) made of basalt fibers, which weigh less than the original parts. Even when you add the additional LARTE design facings all round, the complete bodywork reaches only 13kg altogether: these carbon elements on front bumper, wheel arches, side skirts, trunk lid and the rear diffuser insert complete the package. Furthermore, the Elizabeta exhibits a reworked interior and 22" forged wheels.
Since electric cars are almost silent, LARTE Design also offers an unusual sound module to acoustically replicate the car's enormous acceleration. The kicker is that the user can even store individual compositions and sound files! You can be sure that this will be a discussion topic at the after conference party at the Tesla headquarters in Palo Alto.
Source: Larte