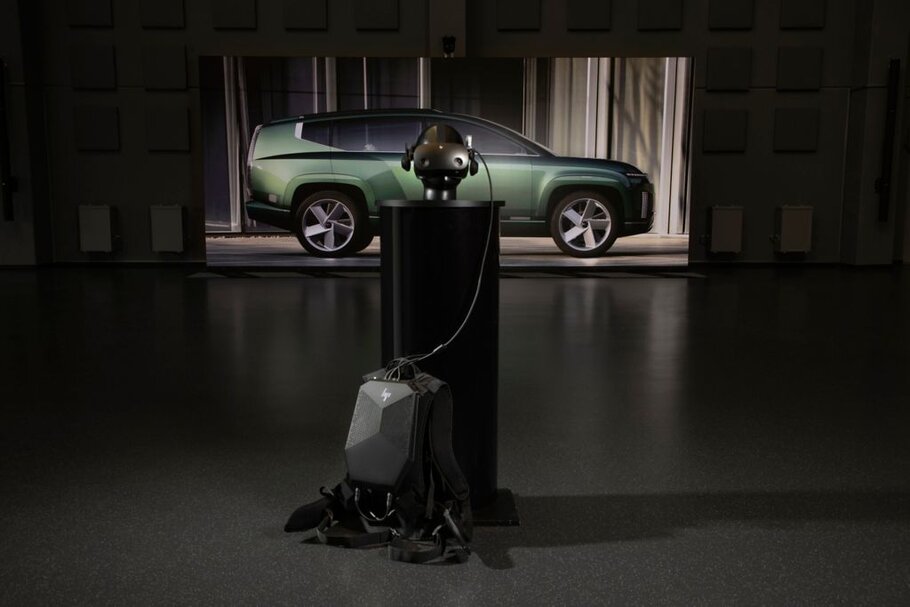 Hyundai Motor Europe's Tech Day format offers journalists exclusive opportunities to learn about the latest technology emerging from the company's facilities around the world. A typical Tech Day event includes a range of formats hosted by both internal and external experts, such as deep dives of products and the latest tools used in the production process for the development of future models, as well as panel discussions and even interactive VR workshops.
In recent years, Hyundai has evolved from a traditional automaker to a tech-driven Smart Mobility Solution Provider. The company has achieved this through significant investments in battery electric vehicles (BEVs), fuel cell electric vehicles (FCEVs), and a diversity of mobility solutions. Another key pillar of this transformation is the company's development of state-of-the-art technology, as it plots a path for the future of mobility beyond getting from A to B.
"Since Hyundai introduced our first Tech Day in 2019, we have hosted a number of interactive events that have enabled us to demonstrate our leadership in technological innovation," says Andreas-Christoph Hofmann, Vice President Marketing and Product at Hyundai Motor Europe. "This platform continues to evolve as new formats emerge and our investments in the latest technoloical innovations come to fruition. Through our Tech Day events, we are able to reach journalists beyond traditional automotive media and show how Hyundai is becoming a Smart Mobility Solution Provider."
"The HME PR and Communications team invite journalists to attend interactive Tech Days events throughout the year so that they can gain first-hand insights about the leadership in research and development that is happening across our company," says Florian Büngener, Head of PR and Communications at Hyundai Motor Europe. "Through a range of guest presentations from Hyundai representatives, to interactive workshops and behind-the-scenes tours, our Tech Days events enable media attendees to see first-hand how our brand is at the forefront of technological innovation."
SEVEN concept VR Tech Day
In March 2022, Hyundai welcomed Europe's leading tech and design journalists to its European Design Center at Hyundai Motor Europe Technical Center (HMETC) in Rüsselsheim, Germany, for the SEVEN concept VR Tech Day. There, they met leading Hyundai representatives and enjoyed a series of virtual workshops where they experienced first-hand the company's modern design process, which is enabled by VR technology, as well as a virtual walkaround of SEVEN, Hyundai's latest concept car.
In recent years, Hyundai designers working in the company's six design centers around the world have transitioned to a fully-digital approach. Today, they use a range of cutting-edge technology like VR, which enables them to work together across continents. VR technology offers them more freedom to experiment. With far fewer materials used, the modern design process is also much more sustainable than traditional methods. This approach will support Hyundai in achieving its target of carbon neutrality by 2045.
For the SEVEN concept VR Tech Day, HMETC opened the doors of its state-of-the-art 20x23m Vision Lab to external guests for the first time since the completion of its renovation in November 2021. It is now outfitted with some of the most advanced design technology in the automotive industry, including 48 cameras with active tracking. In this hall, the company's European designers use VR headsets to meet with their global counterparts and discuss upcoming models.
"Our new HMETC Vision Lab is a state-of-the-art virtual 3D environment that showcases our modern design approach. It enables us to freely exchange concepts within our global design organisation and make much quicker developmental decisions and technical assessments from the very outset of a project," says Thomas Bürkle, Hyundai's Chief Designer in Europe. "Inside, our designers are able to make adjustments to the digital model with much greater accuracy using not just VR, but also AR and mixed reality. They're able to hone in on a bumper detail using digital laser pointers, for example, and can define lines and shapes more accurately and efficiently than in the past."
For the first workshop, Simon Loasby, Head of Styling at Hyundai Motor Company, joined the guests virtually from Hyundai's Global Design Center in Namyang, Korea. Through the power of VR, he presented a walkaround of SEVEN's exterior. To experience this, the journalists were equipped with VR headsets.
During the second workshop, Thomas Bürkle showcased the interior of SEVEN. For this event, Hyundai's engineers created a bespoke Virtual Interior Journey. Using mixed reality, the journalists were able to experience SEVEN's premium lounge and take part in a free-flowing Q&A session.
Looking back at previous Tech Day events
IONIQ 5 Tech Day
In July 2021, Hyundai brought its Tech Day format to the IONIQ 5 Driving Experience in Valencia, Spain. This time around, it was presented in a new digital-hybrid format. In a series of presentations, which were also streamed online to people not in attendance on-site, Hyundai executives and external speakers provided an overview of the company's fully-electric midsize CUV. Following this, tech and design media had the opportunity to participate in an online Q&A session featuring experts from Hyundai Motor Europe.
Hyundai Motor Europe representatives, Raf Van Nuffel, Product and Pricing Director and Eduard Rates Garcia, Head of Product Planning and Market Intel, deep dived into IONIQ 5's groundbreaking Electric Global Modular Platform (E-GMP). E-GMP offers customers enhanced time efficiency by allowing for faster charging capabilities and increased driving range. In addition, it enables a range of technological features such as Vehicle-to-Load (V2L), which allows customers to freely power or charge any electrical equipment while on the move. Attendees had the opportunity to see a demonstration of this innovative technology on-site.
Other topics covered at the IONIQ 5 Tech Day included an examination of what IONIQ 5 means for Hyundai as a brand and how the model fits into Hyundai's corporate responsibility strategy – not just with regards to its zero local emissions powertrain, but also the sustainable materials that were used in its design. The media had a chance to speak with Yasin Savci, Senior Designer at Hyundai Motor Europe, to learn how many of IONIQ 5's interior touchpoints – seats, headliner, door trim, floor, and armrest – use eco-friendly, sustainably sourced materials such as recycled PET bottles, plant-based (sustainable PET) yarns and natural wool yarns, and eco-processed leather with plant-based extracts.
Hyundai also hosted a special episode of its Are We There Yet? podcast in Valencia. Host Suzi Perry was joined by three HME representatives: Raf Van Nuffel, Thomas Bürkle and Yasin Savci. During the episode, the speakers discussed IONIQ 5's electrified features, sustainable materials and futuristic design.
Together with its CSV partner Healthy Seas, Hyundai ensures plastic waste recovered from the sea is recycled into new materials, to support a circular economy. Healthy Seas works with Aquafil, who transform the reclaimed fishing nets and other nylon waste into ECONYL®, a regenerated nylon yarn that can, in turn, be used to make new sustainable products. IONIQ 5 features floor mats developed using ECONYL®.
Virtual Tech Day at SHIFT Mobility Convention
With social distancing measures in place for much of 2020, Hyundai hosted its first Virtual Tech Day event at the SHIFT Mobility Convention, which was held in conjunction with IFA 2020 and took place as a hybrid-digital event. Through various activities, Hyundai highlighted its accomplishments in the field of fuel cell mobility, shared insights on the role of start-ups and OEMs in driving progress forward, and explained its transformation from an automotive manufacturer to a tech-driven Smart Mobility Solution Provider.
A virtual panel discussion entitled "Fuelling the Future: Paving the Way to a Hydrogen Society" considered the potential of fuel cell technology as a zero local emissions mobility solution, as well as the importance of developing solutions that are both ecologically and economically sustainable. The panellists included key Hyundai representatives, as well as important figures from the worlds of politics and sustainability, including: Dr. – ing. Sae Hoon Kim, Senior Vice President and Head of Fuel Cell Center at Hyundai Motor Group; the Swiss psychiastrist balloonist and Hyundai Brand Ambassador Bertrand Piccard; and Mark Freymüller, CEO at Hyundai Hydrogen Mobility AG.
#NextAwaits CRADLE Tech Day
In November 2019, Hyundai invited top tech media from around Europe to the global innovation hub Tel Aviv for the #NextAwaits Tech Day, where they had the chance to meet experts from Hyundai CRADLE Tel Aviv. Hyundai CRADLE is Hyundai Motor Company's corporate venturing and open innovation business focused on seed-to-growth investments in, amongst others, artificial intelligence, robotics, smart energy solutions, smart cities, including mobility services, and cyber security, in support of Hyundai's strategy to develop advanced future automotive technologies.
Hyundai CRADLE Tel Aviv has a portfolio of Israeli startups across various mobility domains it has invested in. These fields include sensors to enable autonomous driving, cybersecurity, real-time trauma analysis in the case of car accidents, V2X, smart cities, and connected cars. In a series of presentations and workshops, the attendees learned about how Hyundai is becoming a leading player in developing future mobility solutions and embracing a start-up culture.
Virtual Seating Buck Tech Day
In September 2019, Hyundai hosted a Virtual Seating Buck Tech Day in Amsterdam. Across a series of workshops, participants were invited to learn about how HMETC integrates virtual reality in the design process, while also receiving an overview of the company's Autonomous IONIQ concept.
Thanks to virtual reality, designers at HMETC can understand, and even feel, both the exterior and interior of a product before it physically exists, and better meet the demands of Hyundai customers. Following an introduction from members of the HMETC design team, journalists discovered how Hyundai's i10 Virtual Seating Buck demonstrates the company's willingness to embrace new technology in vehicle development via an interactive VR workshop.
More Tech Day events planned
So far, Hyundai's Tech Day platform has generated increased interest for the brand among non-automotive media. It is also scalable, with invitations ranging from small media groups to hundreds of journalists. The format continues to evolve so that it is even more exclusive and impressive, and showcases some of the most advanced technology used within the automotive industry.
Hyundai intends to utilise this format for even more events throughout 2022 and beyond. More details will be revealed in due course.