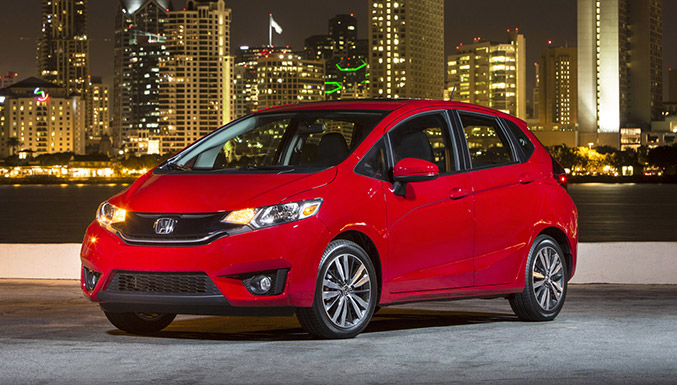 Honda will demonstrate the great personalization potential of the all-new 2015 Fit through an ambitious project vehicle program and interactive Tumblr experience launching today and culminating at the 2014 SEMA Show in Las Vegas.
Honda has selected six build teams, Bisimoto Engineering, Kontrabrands, MAD Industries, Spoon Sports USA, Tjin Edition and the award-winning Kenny Vinces, who will each have the opportunity to customize a 2015 Honda Fit leading up to the SEMA Show. To further support enthusiast interest in the Fit project car build process, Honda is initiating the Fit Performance Project (#ProjectFit) on the brand's Tumblr page, which will keep track of the teams' progress with each vehicle.
"Personalized Honda subcompacts were the foundation of the original import tuner revolution, and the all-new Fit upholds that legacy with a great powertrain, an engaging chassis and renowned Honda quality, all at an affordable price," said Jeff Conrad, senior vice president and general manager of the Honda Division. "Our Fit project vehicle program and our Tumblr initiative, #ProjectFit, together offer a unique, fun way to demonstrate the personalization potential of this great new car."
The build teams will each bring their personalized Fit to life with modifications such as aerodynamic body kits, wheels, custom paint jobs and more. Photos of the transformations in progress will be posted throughout the campaign at hondaloves.tumblr.com. The program will conclude with all six customized Fit project vehicles being displayed at the SEMA Show in Las Vegas in November.
From Aug. 21 through Oct. 22, Project Fit content, including photos, animated GIFs and video, will be aggregated on Honda's Tumblr page where people can vote for their favorite customized Fit by liking and reblogging posts tagged with #ProjectFit. The shop with the highest total likes and reblogs will win and receive an award from Honda. This effort will be promoted on automobiles.honda.com, in Honda newsletters and on the brand's Facebook and Twitter profiles.
The Fit Performance Project posts will feature several themes including: "Preview," revealing design illustrations or renderings; "Show Us Your Mods," highlighting five modifications made to the vehicle; "In Progress," revealing headway on the design; and more leading up to the vehicles on display at the SEMA Show.
Source: Honda