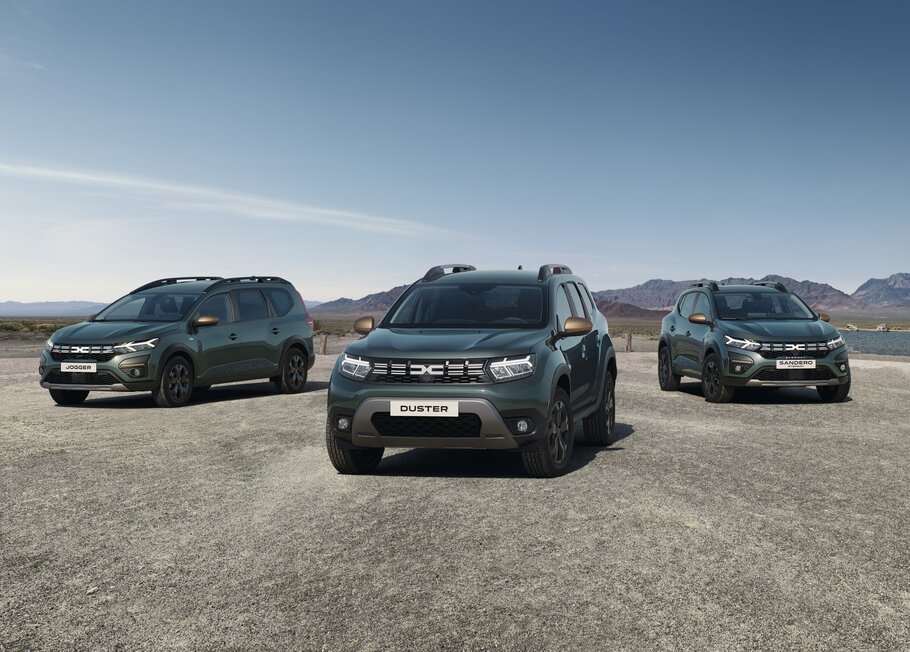 Dacia's sense of adventure and outdoor spirit is now even greater thanks to the introduction of a new range-topping Extreme trim level and the release of an innovative Sleep Pack that turns the Jogger's spacious interior into a mobile bedroom in minutes.
The new Extreme trim – which marks the pinnacle of the Sandero Stepway range and replaces the previous Extreme SE on Jogger and Duster – stands out with its own distinctive look that evokes a sense of the great outdoors.
Exclusive Cedar Green paintwork contrasts perfectly with the Copper Brown mirror caps, wheel centres, Dacia tailgate logo and roof bar emblems. Sandero Stepway and Jogger also feature Copper Brown detailing for the front fog lights, plus a striking topographical pattern on the front doors and side guards. Duster carries a similar design on the door pillars, protective wheelarch flares and snorkel. All models come with Brilliant Black alloy wheels – 16-inch on Sandero Stepway and Jogger, 17-inch on Duster – as well as a Brilliant Black shark fin antenna.
That same appealing topographical pattern makes its way into the interior where it appears on the door sills and hard-wearing rubber floor mats, while Copper Brown highlights can be found on the front door panels, air vent surrounds, and Duster's gear lever surround and stitching.
Making its debut within the trio of Extreme models is a new upholstery material named MicroCloud. Used across the seats and door panels, as well as on the dashboard of Sandero Stepway and Jogger, its unique, velvet-like appearance and soft feel is hard-wearing and easy-to-clean.
Complementing Duster's availability as a rugged and robust four-wheel-drive model, both Sandero Stepway Extreme and Jogger Extreme are now equipped with Extended Grip as standard. This clever feature, activated via a button on the centre console, adjusts the electronic stability control (ESC) settings to maximise the available traction on loose surfaces, helping drivers venture further off the beaten track.
Meanwhile, Dacia Jogger owners who love an adventure can benefit from Dacia's first new accessory launched as part of the InNature range. The clever new Sleep Pack turns the Jogger's spacious interior into a bedroom for two in a matter of minutes. Going camping has never been so easy!
Sleep Pack is simple, removable and affordable. It is compatible with all Dacia Jogger trim levels and features a 220-litre storage box that can be accessed with the double bed unfolded or folded. Dacia's ingenious thinking has once again been applied with Sleep Pack being able to be set up unassisted in less than two minutes, requiring only the removal of the third-row seats.
To keep things simple and easy, the whole pack weighs less than 50kg – making it effortless to remove – and when set-up with its generous 190cm x 130cm mattress, it still offers a surprising 60cm of headroom, limiting the chances of anything going bump in the night. In the morning, the pack can be quickly folded away before setting off on another adventure.
If even more sleeping space is needed, a smart tent is also available that can be connected to the Jogger's open tailgate, while blackout blinds for all windows offer privacy and light control.
The Sleep Pack and other InNature accessories will be available to order at the same time as a new Dacia Jogger or can be easily added at any time separately.
Priced from £16,745 on-the-road for Sandero Stepway Extreme, from £19,695 on-the-road for Duster Extreme and from £19,445 on-the-road for Jogger Extreme, the new adventurous new trim line is available to order from 1 March with the Sleep Pack following in the second quarter of the year.
Lionel Jaillet, Dacia VP Product Performance said: "Having launched our new brand identity across all our models, we are now launching a new trim level across several models in the Dacia range. The Extreme trim level encapsulates Dacia's outdoorsy spirit and gives even greater meaning to our brand promise. Sandero Stepway, Duster and Jogger will all be available in the Extreme trim level, which boasts a unique adventurous look and features that complement outdoor activity equipment."