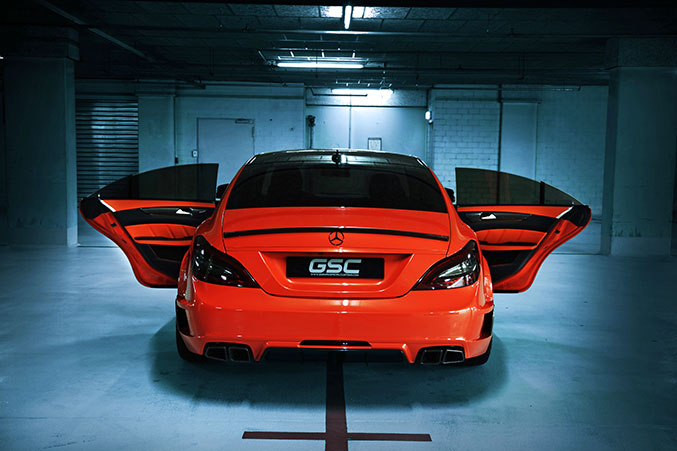 In fact, be it on land, water or in the air, the performance specification of any stealth vehicle seeks to produce a vehicle that is as inconspicuous as possible. And given this definition, one may be tempted to assume that the finishing specialists of German Special Customs chose the name "Stealth" for their new aerodynamic construction set for the current Mercedes-Benz CLS63 AMG (C218) with a wink. A stealth CLS is definitely everything else but "inconspicuous". Particularly if it pops up – as in the example shown here – in a luminary orange color from the Lamborghini Aventador color range!
The front bumper bar of the Stealth with integrated LED daytime running lights looks clearly more forceful and aggressive than its serial counterpart and boosts the already acclaimed non-insignificant passing clout of the CLS63 AMG in combination with the new engine hood and its opulent hot air outlet in an even more significant manner. New fenders and new side skirts with shaft underscore the visual dimension of the four-door coupé. The rear section also appears clearly more aggressive than in the serial model thanks to a completely new bumper with integrated carbon-fiber diffuser and side air outlets. The angular end-pipes of a four-pipe sports exhaust system made of high-grade steel were integrated in the diffuser.
German Special Customs Mercedes-Benz CLS63 AMG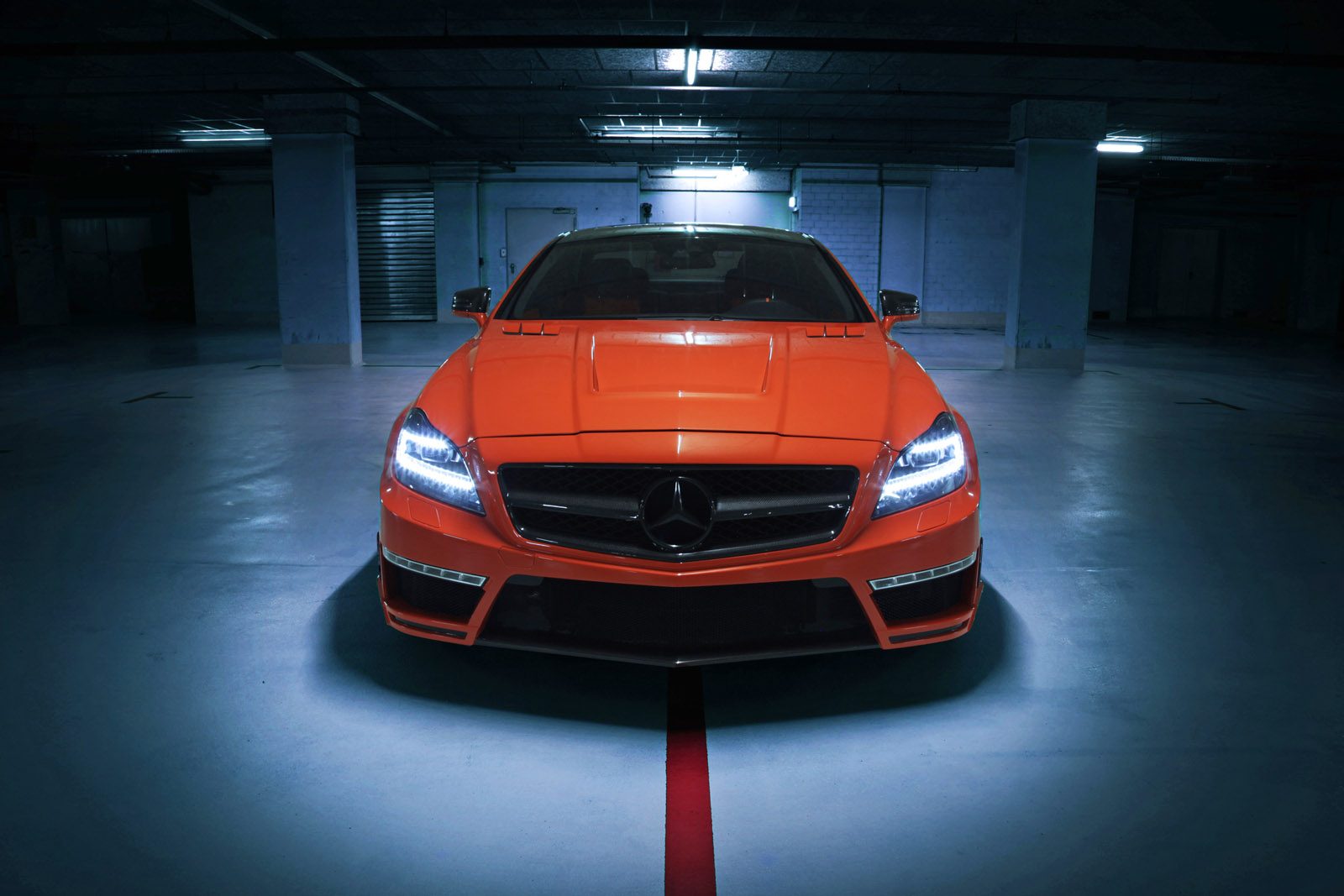 This announces the audible showcasing of the power of the German Special Custom's CLS63 AMG. This is because the 5.5 liter Biturbo-V8 extracts a hefty 750 Horse Power and a brute maximum torque of 1,150 Newton meters from the tuner. To generate this additional performance of good 225 Horse Power as opposed to the serial vehicle, GSC engineers offered the "eight pointer" amongst others, one set of bigger turbo charger, an additional water cooler for the charge air intercooler and a new exhaust system. Equipped in this manner, the Stealth-CLS sprints from 0 to 100 km/h in just 3.7 seconds, transcends the 300 km/h sonic barrier and then accelerates further up to 350 km/h.
For a more optimized road handling, German Special Customs installed a KW coil-over suspension with adjustable dampers on the front axle. The mounted Michelin high-performance tires of the dimensions 255/30R20 and 305/25R20 made of the own-brand alloy wheels of the dimensions 9×20 and 10.5×20 inches generate sufficient grip.
Of course German Special Customs did not miss out on ennobling the interior of the four-door coupé limousine: analogous to the exterior casing, the passenger gets a colorful ambience with orange-colored Lamborghini leather and diverse carbon applications.
Source: German Special Customs