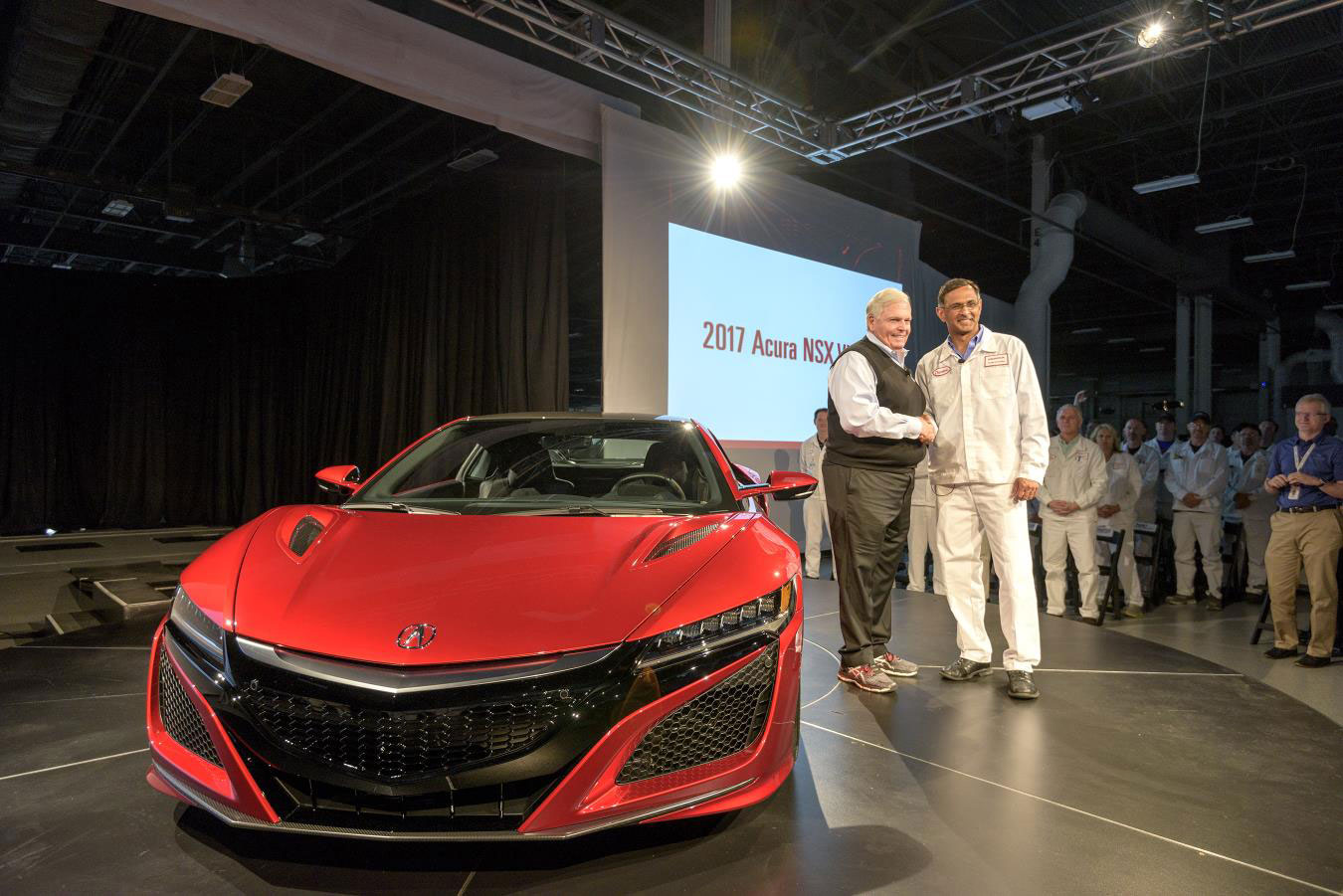 Acura today celebrated the highly anticipated line-off of the first serial production 2017 Acura NSX at the new Performance Manufacturing Center (PMC) in Marysville, Ohio. The PMC is the exclusive manufacturing home to Acura's next-generation NSX, the only supercar made in America.
"Today marks the realization of a big dream here at the PMC and the culmination of more than 30 years of manufacturing experience and expertise here in Ohio," said Clement D'Souza, engineering large project leader for the Acura NSX. "Our world class team of expert technicians, through their passion, has realized major innovations in the design and manufacturing of a next-generation Acura supercar that truly delivers incredible precision crafted performance."
The first customer, Rick Hendrick, earned the right to custom order the first production NSX with a winning bid of $1.2 million at the Barrett-Jackson auction in January. All proceeds from the sale went to the Pediatric Brain Tumor Foundation and Camp Southern Ground.  Hendrick drove his Valencia Red Pearl Acura NSX off the line. VIN 001 features exclusive interwoven wheels, carbon ceramic brake rotors, leather and Alcantara interior trim and carbon fiber upgrades including the engine cover, roof, and rear decklid spoiler.
"The NSX is a pure expression of the Precision Crafted Performance DNA and challenging spirit that defines the Acura brand," said Jon Ikeda, vice president and general manager of Acura. "We can't wait to give our clients a chance to experience this dream product, and will carry this day's momentum forward as we continue to invest in and grow Acura."
"Taking delivery of this first new Acura supercar and knowing the proceeds will benefit two remarkable organizations for children makes this a very special moment for me and everyone on our team," said Rick Hendrick, owner of Hendrick Motorsports and chairman of Hendrick Automotive Group. "It's especially rewarding to see this incredible supercar coming to life in the United States, which is a real testament to the company's commitment to innovation and manufacturing here."
The PMC was designed to blend human craftsmanship and advanced technologies to assure superior build quality and precision crafted performance. The PMC is home to master technicians who developed 12 patent-pending technologies and other advanced methods of producing a made-to-order supercar. PMC associates created sophisticated new manufacturing methods around the unique capabilities and specifications of Acura's next-generation NSX. Innovations to the NSX construction, painting, assembly and quality confirmation process include fully robotic MIG welding of the aluminum-intensive space frame, 14 hours of meticulous hand assembly by 16 highly skilled manufacturing technicians, and a dynamic performance testing and confirmation process drawn from the company's extensive race experience.
In nearby Anna, Ohio, at the company's largest engine plant, master builders hand assemble the NSX's 3.5-liter twin-turbocharged V-6 engine, which is then mated to its advanced 9-speed dual clutch transmission and rear direct drive electric motor.  Each NSX engine is machine balanced, bench tested and broken-in to the equivalent of 150 miles of service to ensure that every NSX engine is track-ready upon customer delivery.  The engine is installed at the PMC, along with its revolutionary front-mounted Twin Motor Unit, which enables electrically powered torque vectoring, a world's first capability in the sports car realm.
Development of the Acura NSX involved a global R&D team led by engineers at the Ohio Center of Honda R&D Americas, Inc. in Raymond, Ohio, roughly a mile from the PMC.  The final design was created at the Acura Design Studio in Torrance, Calif., based on an original concept from the Wako Studio in Japan.