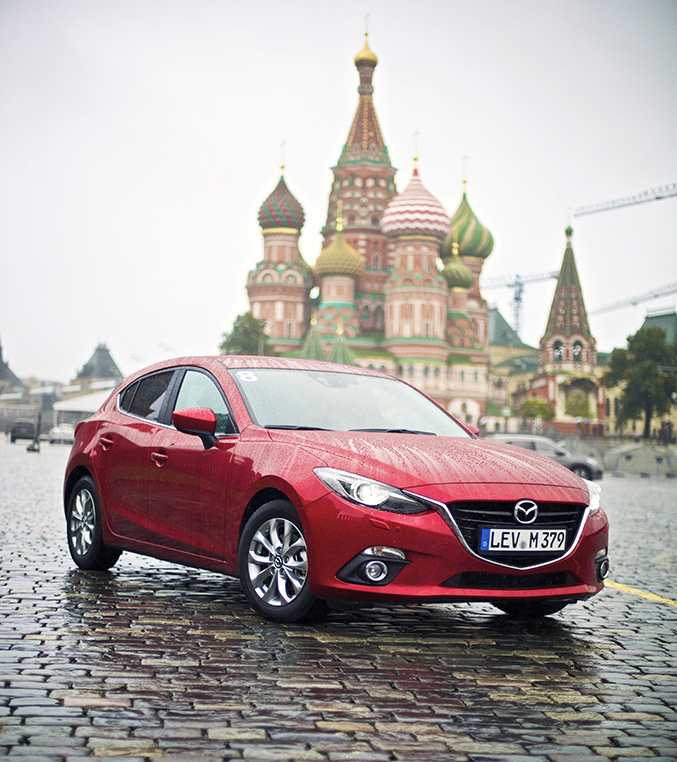 The convoy of all-new Mazda3 cars taking part in the 'Mazda Route3 – Hiroshima to Frankfurt Challenger Tour 2013' have safely reached Moscow after some 7,770 miles and 23 gruelling days on the road.  The eight hatchbacks undertaking the expedition are holding up superbly, proving to be extremely reliable and robust.
"The two things I find most remarkable about this epic journey are firstly how well the all-new Mazda3 cars are performing under conditions that have been worse than anyone expected, and also how welcoming the people have been.  Everywhere that the Mazda Route3 teams have gone, people smile and wave and sometimes even applaud.  The all-new Mazda3 is proving to be a real attraction," comments Jeremy Thomson, Managing Director, Mazda UK.
On route to Moscow, tour highlights in the few short breaks between driving sessions included a stop at Russia's largest power plant and driving a section of the Chuysky Tract, one of the world's oldest roads.  Tour participants also took a break at Chany Lake, a large body of freshwater that locals claim is home to a man-eating sea monster.  Further west, the Mazda3 teams visited the Kungur Ice Caves, with their sprawling caverns and bizarre ice formations.
Crossing the Ural Mountains from Asia into Europe, crews stopped at two of Russia's most famous kremlins (Kazan and Nizhny Novgorod), before arriving on Saturday evening in the Russian capital.
In Moscow, the Mazda Route3 convoy joined in the Festival of Speed (an event which aims to become Russia's answer to the Goodwood Festival), and stole the show at this year's motorsport event – if not on the track then certainly in the hearts of the 10,000-strong crowd at the Luzhniki sports complex.  
The all-new Mazda3s have performed extremely well after crossing most of Russia, overcoming contaminated petrol and surviving often crumbling or unpaved roads with dangerous potholes causing numerous punctured tyres, but no other damage.
British media and Mazda dealers from the UK were among the first crews to pilot the all-new Mazda3 test fleet when they participated in the first three legs of the epic tour from Vladivostok to Ulan-Ude.
The last group of tour participants hit the road today for the seventh leg of the epic journey, which will take them the final 1,550 miles to the Frankfurt Motor Show – via three European capitals (Minsk, Warsaw and Berlin) – where four of the eight cars will be put on display.
All the Mazda3 hatchback test cars are powered by a 120ps SKYACTIV-G petrol engine mated to a six-speed SKYACTIV-MT manual transmission.  From the stunning 'KODO – Soul of Motion' exterior design to the advanced lightweight SKYACTIV technology and a completely redesigned cabin space, the convention-defying all-new Mazda3 is built to exceed customer expectations.
Source: Mazda