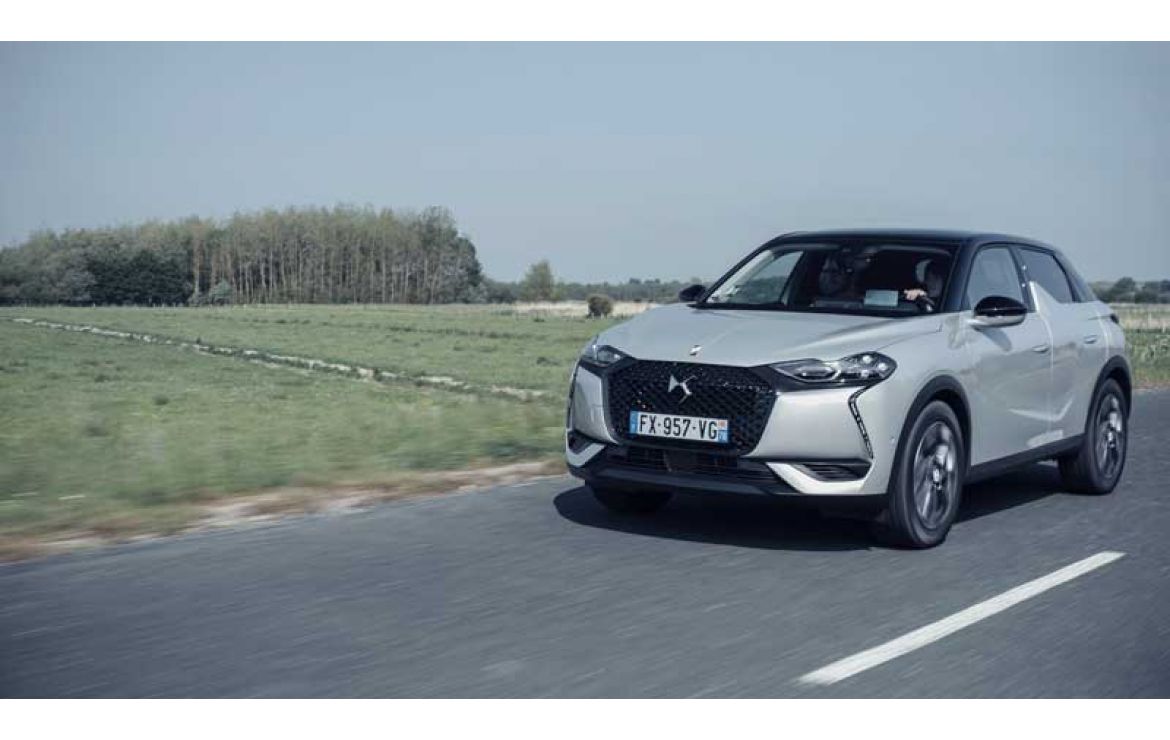 The first 100 per cent electric model in the DS Automobiles range is evolving. On sale since 2019, DS 3 CROSSBACK E-TENSE can now achieve a range of 212 miles according to the WLTP combined cycle, an increase of nearly seven per cent.
During the development, priority was given to the real-life usage of DS 3 CROSSBACK E-TENSE. Notably, the heat pump has been developed with a moisture sensor for increased efficiency. Offered as standard, the heat pump enables heat to be produced by compression to generate hot air. As a result, energy consumption is greatly reduced.
From continued development and constant discussion with the Formula E championship winning team, supported by DS Performance, the gear ratio has also been perfected to further improve the efficiency of DS 3 CROSSBACK E-TENSE.
The range gain in real-life usage is also achieved through the adoption of new 17-inch A-rated tyres, developed by Continental. Offered in 215/60 R17 96H size, the Continental EcoContact™ 6 Q introduces a new compound with high silica technology to improve rolling resistance and reduce noise emissions.
With an electrification strategy in place since its creation, DS Automobiles is the multi-energy brand with the lowest average CO2 emissions in Europe (100.2 g/km of CO2 according to the WLTP cycle per registered car in the first half of 2021) and every model is available with an electrified powertrain. The brand has seen 40 per cent of its customers buy either a fully electric or plug-in -hybrid car in 2021, in the UK. This strategy is accelerating: from 2024, every new DS Automobiles model will be exclusively 100 per cent electric.
The DS 3 CROSSBACK E-TENSE is available from £31,500 OTR (including the government plug-in grant). For more information visit www.dsautomobiles.co.uk.
PRESS CONTACTS
Krystyna Perry – 07710 062783 – krystyna.perry@stellantis.com – PR Manager – DS Automobiles
Kristian Cholmondeley – 07831 315892 – kristian.cholmondeley@dsautomobiles.com – Head of PR – DS Automobiles
Jeremy Townsend – 07827 896480 – jeremy.townsend@stellantis.com – UK Communications Director – Stellantis
ABOUT DS AUTOMOBILES
Driven by the spirit of the avant-garde and backed by an exceptional heritage – that of the 1955 DS, the DS brand, born in 2014, aims to embody French luxury savoir-faire in the automotive industry.
Designed for a customer base looking for personal expression and eager for new technologies, DS models combine refinement and technology. With DS 3 CROSSBACK, DS 4, DS 7 CROSSBACK and DS 9, the DS brand is launching a global range.
DS Automobiles is the only brand able to claim a double Formula E championship (Teams and Drivers) in 2019 and 2020, and is at the cutting edge of electrification by offering all its models as electrified versions. Under the E-TENSE label, DS Automobiles offers both 100 per cent electric and plug-in hybrid of up to 360 horsepower with 4-wheel drive. From 2024, every new model launched by DS Automobiles will be only 100% electric.
For its discerning customers, DS Automobiles has created "ONLY YOU, a wealth of attentions", its exclusive service programme for a unique brand experience.
With a presence in 41 countries, the DS brand has created and is developing an exclusive distribution network that includes over 440 DS STORES throughout the world.