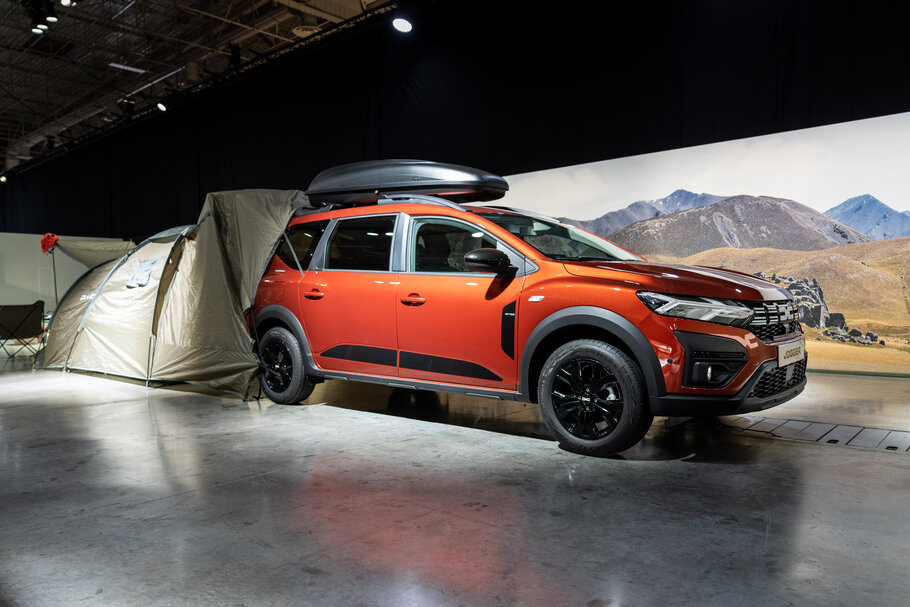 Renault Group presented Renaulution, its new corporate strategic plan which set the direction for each individual brand. Its goal for Dacia was clear: become the leader for affordable mobility and to offer the essentials.
Working towards this goal, with a proven success story, Dacia has sold more than 7.5 million cars in just 18 years and ranks third in Europe for sales to private customers. The brand now stands for a new modernity with a vision of cars acclaimed by a growing number of no-nonsense, savvy customers who are keen on freedom and simple pleasures, shunning overconsumption.
Now, the Dacia brand is more in sync with society than ever. It will explore new grounds, bringing the values and principles that propelled it to success in the B-Segment to the C-Segment.
Twenty months after the Renaulution plan was presented, Dacia is ready and raring to embark on its new chapter. It has decided to bolster its appeal and desirability without letting go of its famed principles and value-for-money proposition.
The brand has already adopted a new identity, new logo, new dealerships, new design and new colours. Today, Dacia reaffirms the three values that will guide the brand's action and product design over the coming years.
ESSENTIAL AND COOL
Over the past 18 years, Dacia has been offering customers the essentials, showing that they are all you really need.
Naturally, what is and is not deemed essential changes over time. Air conditioning was not seen as an essential 18 years ago, but it is today. Conversely, Dacia questions the point of fitting two or three screens in a car when there is a swift and smart way to pair your smartphone with the vehicle, evidenced via Dacia's Media Control system.
Essential does not mean boring, proven by Dacia's clever and creative thinking. Examples include breakthroughs such as the Media Control system or the modular roof rack. It applies to the design too: the look is cool – and does not cost more.
Tomorrow, Dacia will take its creativity one step further by adding a feature that suggests both times and places to take a break on its smartphone application. This new feature is being developed by Dacia's teams, in partnership with the Software République ecosystem, which includes Renault Group.
ROBUST AND BUILT FOR OUTDOOR ADVENTURE
Dependability and sturdiness are two of the essentials that have powered Dacia's success. Customer loyalty is testament to this. In France, owners keep their Dacia for eight years on average and 60% of them replace it with another Dacia. Furthermore, the brand's best-value-for-money guarantee is evidenced by Dacia car's residual values – when you sell your vehicle second-hand, it is approximately ten points higher than the average value of non-specialist rivals.
This robustness and reliability make Dacia cars ideal for outdoor activities that a growing number of customers are enjoying during their time off as well as for professional endeavours.
Tomorrow, Dacia will go further, synchronising with this market trend by consolidating its range of models designed specifically for off-road driving. Dacia will continue to offer all-wheel drive systems and equipment designed for outdoor activities, including a kit that will be available in 2023 to set up a proper double bed in minutes in the Jogger, without restricting the boot space. What's more, a family of four will even be able to pitch a tent to the passenger compartment to enlarge their living area.
ECO-SMART: ECONOMICAL AND ECOLOGICAL
Dacia is intent on overlapping individual and collective interests. To do this, it uses tried and tested technologies, instead of developing new ones – which also saves customers money. One example is the use of the existing CMF-B platform. The brand avoids superfluous technology or merely cosmetic features, making cars lighter and thus saving fuel – good for both owners' wallets and the planet. This is already demonstrated on Jogger which is 300kg lighter than its main 7-seat rivals.
Using recycled materials extensively is another priority for the brand. 12% of the plastic used in Duster is recycled which is much more than the average for new cars in the European market. The brand is combining the interests of customers with that of the planet.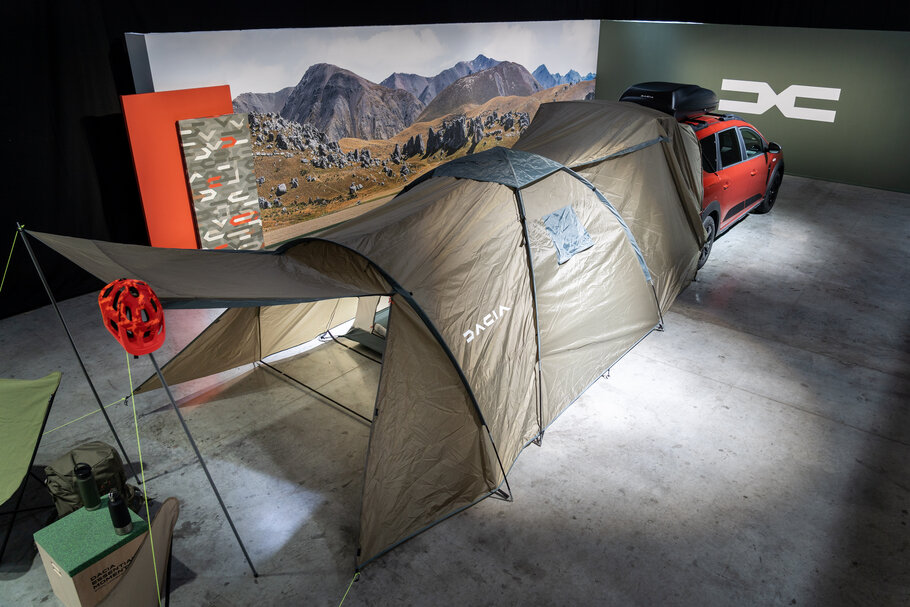 Tomorrow, Dacia will go even further, using more recycled plastic in its models. For the new-generation Duster, the target is 20% recycled plastic. Achieving this will not only involve using recycled plastic for the parts that are out of sight, which is often the case today, but also for visible external parts which is a practice not commonly used at present. Dacia uses this practice with the skid plate under Sandero Stepway's front bumper and will take it to the next level with a new material fine-tuned by the brand's engineers. The material, called Starkle®, is an environmentally friendly, robust, elegant recycled plastic compound.
AN EFFORTLESS CUSTOMER EXPERIENCE
This new chapter in Dacia's history includes a step change in the brand's interactions with customers, offering an even more seamless, enjoyable and on-brand experience.
This full revamp has already started across Dacia's dealership network earlier this year. The new showrooms, adopting the new identity, are purposeful, ultra-flexible, eco-responsible and geared for reasonable pricing. To help the customer journey, Dacia is intertwining physical and virtual experiences using augmented reality on smartphones.
Denis Le Vot, CEO of Dacia said: "Year after year, Dacia is attracting new customers who are looking for what may be most valuable in the world today: the essentials. These new customers are aiming for a sensible, responsible society and a new angle on cars. Cars you feel drawn to because they have the content, the comfort and the look, and are the most affordable by far. That's Dacia! The essentials without cutting corners, the design without the extra cost."