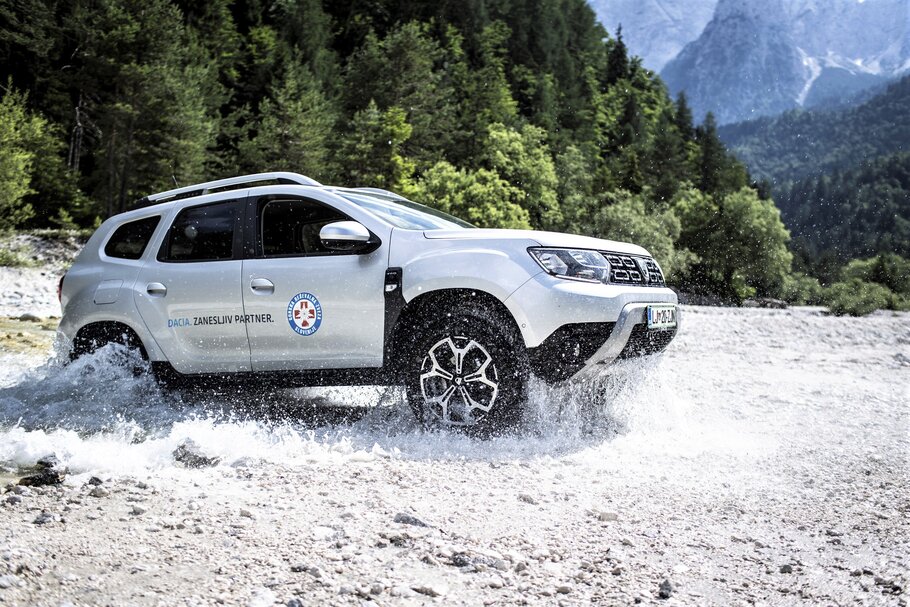 Dacia has partnered with three mountain rescue associations in Slovenia, Croatia, and Serbia. Dusters are used by the response teams which allow them to carry out rescue missions in wild, remote locations, and transport equipment, rescue dogs and those in need of aid.
The mountain rescue volunteers, who risk their lives to help others, explain how the Dacia Duster provides them with the valuable support they need to do their job.
Darko, a Croatian rescuer for 25 years, explains: "We have used Dacia Dusters for the last eight years. They are really practical vehicles because they can be driven on urban roads and forest tracks too."
The Dusters are used as rapid response vehicles to get to the scene of an accident. The first response teams, usually consisting of three people, transport equipment and, if necessary, search dogs. With its four-wheel drive, high ground clearance and ease of handling, the Duster is perfectly suited to operating in difficult locations, harsh terrains, and extreme conditions.
The Slovenian, Croatian and Serbian mountains are visited by a high number of people all year round, especially in the summer months. The associations of volunteers, who are experts in mountaineering, caving, diving and rock climbing, ensure a permanent and swift response to accidents throughout the year.
In Slovenia, the 430 rescue volunteers responded to 485 incidents in 2020, of which one third involved people who were lost or had become trapped.
The 500-strong volunteers in Serbia are called out approximately 1,500 times a year. Dusters have been used every day for the last eight years without failure, to tow trailers full of rescue equipment and transport rescuers and search dogs to the most remote parts of the country.
Over the years the Dusters have been used for many difficult journeys. In 2014, vehicles had to operate over several days in flooded areas, facing rain, mud, snow and blizzards.
At the same time, in Croatia, the total number of visits to the mountains equates to 600,000 days of hiking per year. The 700 volunteer rescuers are called out around 7,000 times to meet this demand. Natural disasters, including floods, earthquakes, storms and snow avalanches account for 15 per cent of callouts.
In December 2020, an earthquake destroyed the town of Petrinja, Croatia. Driving their Dusters, the Croatian mountain rescue teams were the first on the scene. Thanks to their rapid response, they were able to save a woman trapped beneath the rubble.
"With the Duster, we can get to the scene of the accident really quickly to give first aid," Darko, a long-serving Croat rescuer said.
Valued for their reliability and versatility, the rescue associations of the three countries now have a fleet of around 20 Dusters each.
Even in difficult weather and driving conditions, the Dacia Duster provides dependability and off-road capabilities to support these heroes of the mountains as they save people's lives.