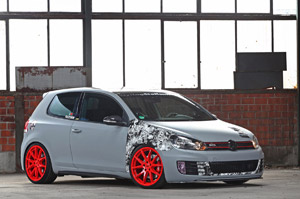 The fact that this suspiciously nearly perfect car and also this GTI can be all over optimized was proved by the company CFC Styling Station Neuss in the city of Neuss on the left bank of the Rhine river. We begin with the direct connection between the car and the street – with the wheel and tyre combination. In this case the car demonstrates two different wheel designs – pink ASA GT1 8.5J x 19" wheels on the one side and red ASA GT3 wheels identical in size on the other side, each provided with Hankook EvoS1 225/35R19 tyres (each wheel set costs €2 400). In front there are Eibach spacers, while from behind 5–mm H&R wheel disks fulfill their task.
APX AP coilovers (€779) in combination with H&R set of stabilizers provide active support for even better dynamics. The car is supplied with the Kerscher carbon-lip and a 2,5 cm wide front fender. The new design of the car body (€800) is taken from the Golf VI's R-variant. Side sills, rear diffuser, mirror caps and engine cover triumph as carbon-parts in Black-Gold-Design (the set costs €1 200). Due to MR Car Design the turbo exhaust system is provided with a downpipe (€2 200 Euro) which is equipped with a black end pipe as in R-Design. Due to its power of 270 hp and 400 Nm of torque the car also has a braking system (€949) with TÜV certificate and therefore it is 100% suited for the streets. It also has aluminum 4-piston brake calipers, carbon-steel two-piece grooved brake discs and also an ultra light floating aluminum hub. High-performance brake pads are borrowed from the car racing technology.
We should not forget the main field of work by the CFC among all the mechanics. A friendly CFC team provided matt gray foiling (€1 400) and also fender's matt Sticker Bombing and parts for black and white spoiler (€250). The top of the car is painted in High Gloss Carbon Black (€550), while the fog-lights are in Pink Tint Lights (€50). Anthracitic colored tinted glass (€248) sets a remarkable contrast.
The MK SoundStyle installed the HiFi-device, while the radio set is supplied by Pioneer, the amplifiers by Mosconi and the dynamics by Rainbow. AIV-cable and Jehnert Doorboards have not gone unnoticed. This Leitgolf is unmistakably noticeable as the leader of the pack.
The car tuning costs €12 900, HiFi costs additional €10 000.