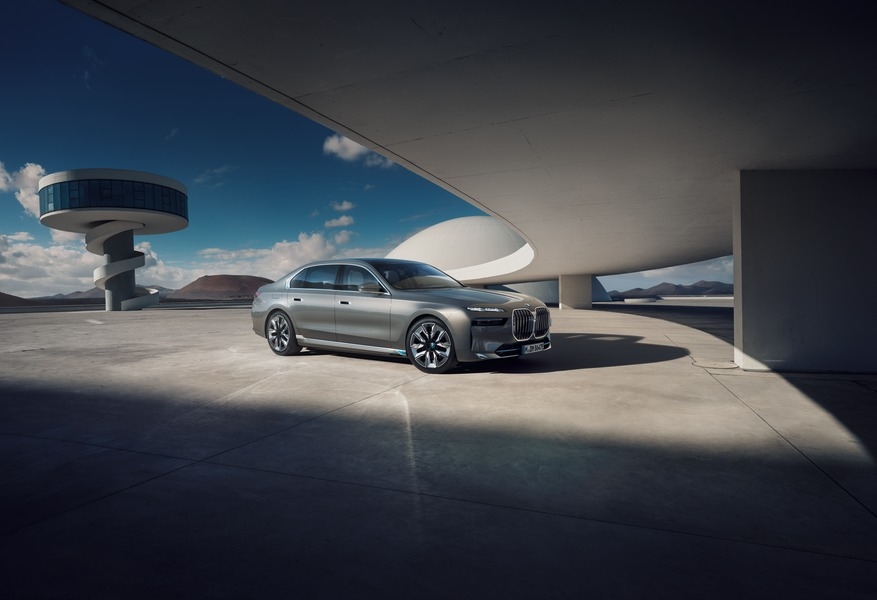 Bowers & Wilkins celebrates its close partnership with BMW with the launch of the new 7 Series, BMW's most luxurious and progressive cars yet. The iconic 7 Series marries minimalist interior design with the most exclusive on-board experience, and is the first BMW to feature Bowers & Wilkins audio for a second consecutive generation – a huge testament to the strength of the two brands' partnership. With the introduction of two audio system levels, BMW customers now have access to performance audio from Bowers & Wilkins in every available model of the new 7 Series.
Following seven years of innovation, the Bowers & Wilkins Surround Sound System comes as standard in the new BMW 7 Series and delivers a high-class audio surround sound experience with up to 18 speakers and 655 watts of power. The system delivers cutting-edge technology paired with high quality engineering. Carefully considered speaker positioning ensures an enhanced audio experience for all occupants. Seamless design integration is demonstrated through ultra-thin, stainless steel grilles, that not only complement the interior design of the car, but are also acoustically optimised to deliver the best possible sound quality.
Key features of the Surround Sound system include five aluminium tweeters, four Continuum® midrange speakers in the front and rear doors and two dual-balanced woofers. As found in Bowers & Wilkins home loudspeakers, aluminium tweeters provide exceptional clarity for high frequencies, thanks to their lightweight and rigid construction. New to the BMW audio system is the Continuum® cone, born out of eight years of development. Continuum® represents an enormous step forward in midrange speaker performance, delivering a precise and authentic reproduction of voices and instruments.
The optional Diamond Surround Sound System is the most advanced audio system of its generation, combining up to 36 high-performance speakers and 1965 watts to deliver an unparalleled in-car listening experience that is accurate and true to the original recording, a Bowers & Wilkins philosophy known as True Sound. 3D sound can be experienced through four speakers, integrated in the roof and additional headrest speakers. In addition, eight shakers are built into the front and rear seats, so you can feel the bass.
The diamond high-frequency dome, which is carefully cultivated under laboratory conditions, is very light and extremely rigid, resulting in a sound that combines incredible accuracy with minimal distortion. The system is highlighted by brushed stainless-steel covers with a laser-etched logo and a discreet lighting effect, including subtle illumination designed to accentuate the Diamond dome tweeter. This discreetly highlights the performance potential of the system while complementing the elegantly crafted interior of the new 7 Series.
The new BMW 7 Series features an all-new woofer configuration in both the Surround Sound and Diamond Surround Sound System. Dual-balanced woofers, as found on the famous PV1D and the DB Series subwoofers, use two cones arranged in an opposed, balanced configuration to greatly reduce unwanted vibration and provide fantastic coloration-free bass.
Listeners can enjoy the sound system through four different sound modes according to preference and both systems feature an Audio Demo mode which helps to demonstrate the capabilities of each system. The impressive Theatre Screen in the rear offers an unparalleled level of in-car entertainment and is enhanced by the Bowers & Wilkins system for immersive surround sound.
Using technologies developed over fifty years of craftmanship and experience, Bowers & Wilkins has successfully developed and tuned two world-class, high-performance audio systems, the Surround Sound System and the Diamond Surround Sound System, that enhance all aspects of audio and the listening experience within BMW's most luxurious and ground-breaking saloon to date.