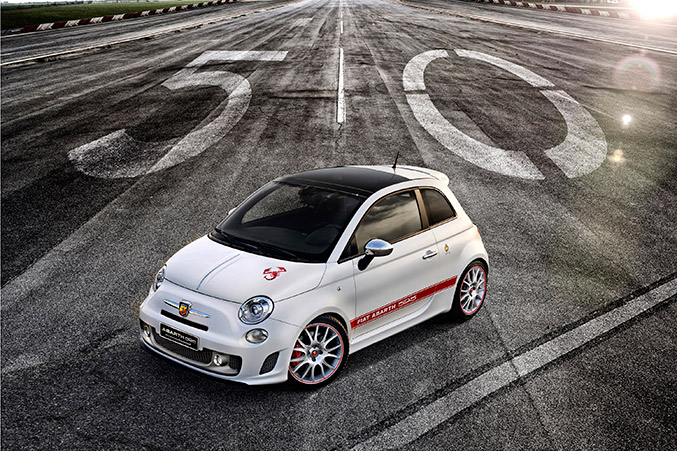 Abarth returns to the 2013 Frankfurt Motor Show to celebrate the Scorpion brand through one of its greatest icons: the 595. The stand will host two exclusive cars: a historic model of the 595 presented to the public in 1963 and an Abarth 595 '50th Anniversary', the new Limited Series inspired precisely by the brand's icon.
The spotlights will also be trained on the Abarth 695 Edizione Maserati in the special shade of "Record Grey", produced in a limited edition of only 49 units to celebrate the car manufacturer that came into being precisely in 1949. The Abarth 695 Assetto Corse, distinguished by a special "social" livery that evokes the success of the 2013 Make It Your Race edition, the first Abarth talent show for aspiring drivers, is the most complete expression of the brand's technology and performance. Pure performance.
The Frankfurt Motor Show is the perfect stage to celebrate the excellent sales results scored in the first half of 2013. With more than 4,500 cars sold until June, the Scorpion brand celebrates an increase of 9% compared to the results of the same period last year with excellent performance at the international level, especially in the Asian, UK and Germany markets.
Abarth confirms its Global Brand position: the sales increasingly concentrated outside Italy (76%) and those outside Europe (21%) with an increase of 3% over last year's results confirm the growth of the brand internationally. A clear indication of this openness to foreign markets is that as many as 99 of the 299 Abarth 595 '50th Anniversary' cars will be sent to the Asian markets – and Japan in particular – and to Australia, of strategic importance for the brand's success.
The network of showrooms and official Abarth performance centres is a truly unique phenomenon that, thanks to its widespread presence in Europe, the Middle East, Africa and Asian areas, is able to fully support the initiatives of the brand and actively contribute to these many successes.
It is a network undergoing continuous expansion with the opening of new markets (Sweden in September) and dealerships, modern and cutting-edge showrooms, and real performance centres of excellence. One symbol of this trend is the largest Abarth showroom that recently opened in Yokohama, Japan with 500 square metres of Abarth Experience.
Source: Abarth