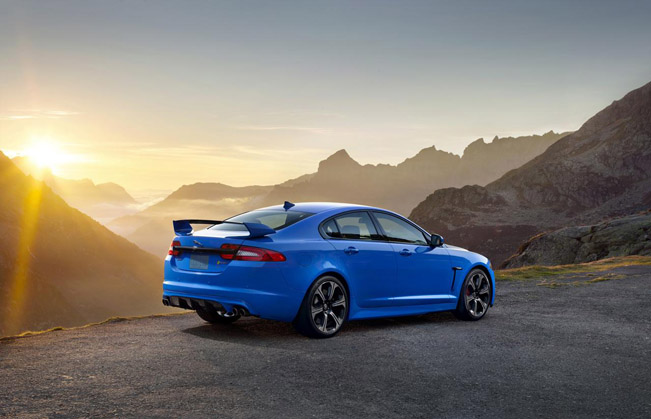 The second model in the Jaguar ultra-high performance R-S range, the XFR-S Sedan joins its XKR-S sibling as a vivid expression of the carmaker's longstanding performance lineage. Just 100 of these ultra-performance sedans will be offered for the U.S. market, making it one of the most exclusive Jaguar models.
Powertrain
5-Liter Supercharged V8
The 5-liter supercharged V8 engine provides electrifying performance from 550hp and 502 lb-ft of torque – up 40hp and 41 lb-ft, respectively, over the XFR. The increases have been achieved through revisions to the engine management system and improvements to the intake and exhaust flow. This all-new combination provides a visceral blend of vivid acceleration and driver involvement. The 2014 Jaguar XFR-S can accelerate from zero to 60 mph in 4.4 seconds1 (0-100 km/h in 4.6 seconds) and reach an electronically-limited maximum track speed of 186 mph1 (300km/h).
The all-aluminum 32-valve quad-cam engine delivers not only extraordinary performance but also efficiency thanks to such technologies as spray-guided direct injection (SGDI) and dual independent variable cam timing (DIVCT). The high-pressure die-cast lightweight aluminum block is stiffened with cast iron liners and cross-bolted main bearing caps, providing refinement to match its power. Between the aluminum four-valve cylinder heads sits a Roots-type twin vortex supercharger fed by two intercoolers to reduce the temperature of the pressurized air to optimize power and efficiency. Each intercooler features its own water-cooling circuit.
The XFR-S exhaust system replaces the central muffler with an X-piece and near straight-through rear pipes. The combination yields an enhanced exhaust note that "crackles" on deceleration. The intake system also features a symposer that channels some induction sounds into the cabin, adding to the auditory excitement of driving the XFR-S.