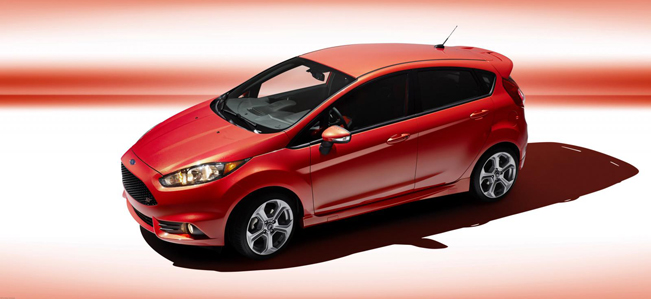 Small cars continue to be a hot segment in North America and with the new Fiesta ST, introduced here at the 2012 Los Angeles Auto Show, Ford is expected to have the hottest hatch around.
 Fiesta ST, a performance model first launched in Europe back in 2005, is yet another proof point from Ford that small cars are anything but boring. In addition to a precision sport-tuned suspension and an improved braking system, Fiesta ST packs a punch under the hood.
A new high-output variant of the award-winning 1.6-liter EcoBoost® four-cylinder engine propels Fiesta ST with an estimated 197 horsepower and 214 lb.-ft. of torque. In comparison, Mini Cooper S makes do with 181 horsepower and 177 lb.-ft., while Chevrolet Sonic RS produces just 138 horsepower and 148 lb.-ft.
Unlike the competition, Fiesta ST doesn't simply look like a performance car; it's got the guts to back it up.
"This is a rewarding car to rev," says Mark Roberts, Fiesta calibration supervisor. "With 177 lb.-ft. of torque available from just 1,600 rpm and 214 lb.-ft. by 3,500 rpm, Fiesta ST gives the performance and feel of an engine twice its size. There's no waiting at all for the power to just push you back in your seat."