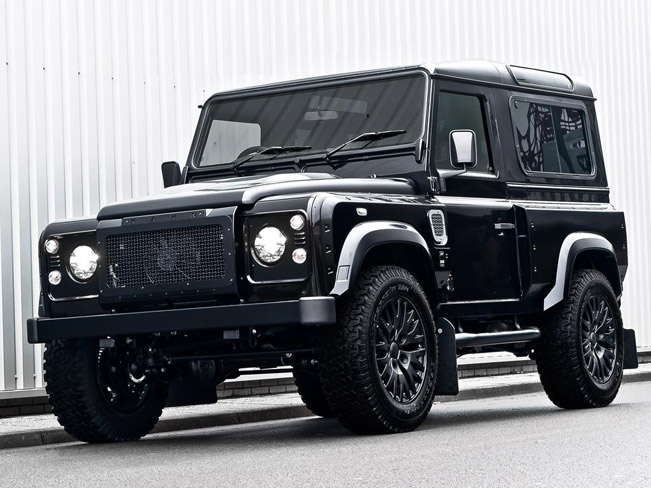 Afzal Kahn insists the road is his catwalk and true to his mantra, the iconic British designer has combined what can only be described as the "the Champagne of fabrics" we are talking about the only fabric in the world governed by its own *Act of Parliament: Harris Tweed – with a descendent of the all-terrain vehicle developed in 1947 on the 250-acre Anglesey farm of joint Rover MD Maurice Wilks: the iconic Defender.
This is a fashion statement in every single sense of the word and the nearly-seventy-year-old original Defender, treated to a makeover by the principal British Designer under the guise of the Kahn expedition Vehicles Umbrella and aptly titled: The Defender Concept 17 Wide Body – Harris Tweed Prototype is proof Afzal Kahn is a keen supporter of investing in British Industry.
On paper, it should not work. However, Defender owners need not exercise caution, for Harris Tweed is a 'noble' fabric that is favoured by Afzal Kahn and is applied to many of his products.
To match the Iconic feel of the underlying car, the Kahn Defender is adorned with a brand new utilitarian and aggressive looking wide track arch kit which consists of lightweight extended wide wing wheel arches with integrated vents, stainless steel front grille with embossed Kahn feature, vented headlight surrounds, side vents with mesh, bonnet vents with mesh, clear rear light lenses, clear side repeaters, clear front light lenses, LED B6 headlights, Kahn prototype wing blades, Kahn prototype tailgate badge and Kahn oval tailgate badge.
The compulsory branded rear wheel cover ensures the driving position is luxurious and remains more responsive in complicated conditions and although it won't ever change its spots, Afzal Kahn has ensured the Kahn Defender concept 17 wide body exudes a certain charm which goes hand in hand with both fashion and all things automotive.
Hand woven by the islanders on the Isles of Harris, Lewis, Uist and Barra in the Outer Hebrides of Scotland, using local wool, Harris Tweed is one of the most traditional and rustic of fabrics and the fabric of choice for the most discerning of clients – and the interior of this vehicle transcends all things automotive because this is all about making a fashion statement!
The bespoke touch includes a red Kahn rev counter, red Kahn Churchill time clock, black piano wood centre dash surround, red seat belts, aluminum machined pedals, front and rear racing seats in black quilted nappa leather with Harris Tweed Inserts and silver contrast stitching, centre glove box in black quilted nappa leather and grey alcantara with red and silver contrast stitching, instrument binnacle in grey alcantara with red and silver contrast stitching, dashboard in black nappa leather and grey alcantara with red and silver contrast stitching, roof lining in grey alcantara with Harris Tweed inserts and red contrast stitching, sun visors in grey alcantara with Harris Tweed inserts and red contrast stitching and door trims in black quilted nappa leather and grey alcantara with silver contrast stitching.
However, we provide our customers with the opportunity to express one's individuality and they can have whatever they want. Afzal Kahn will add your personally requested luxury style and taste to the equation making you feel even more at home than you already are. He could, for example, design for you a vehicle with an interior the same shade of your living room, the choice is yours.
Kahn wheels sit perfectly on any vehicle, conveying the essence of the vehicle's identity. Created using state-of-the art manufacturing and materials technology, the 18" 1983 Defender wheels are finished in the colour of your choice and fit all original centre caps. With simple clean lines, soft organic surfaces on the edge of the spoke and a purposeful mechanical centre, the 1983 Defender wheels are synonymous with elegance and innovation.
A. Kahn Design is for the individual who will not submit to a life of uniformity and who will only accept perfection. Dedicated to the creation of luxury bespoke vehicles, we redesign the ordered monotony of mass produced vehicles and rebuild them into individually tailored creations.