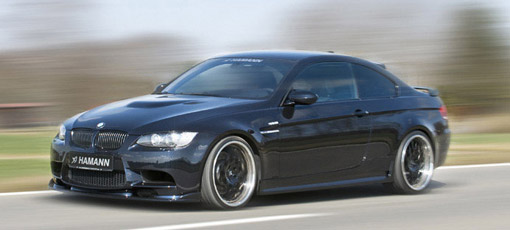 Hamann has released its latest performance and styling kit for the E92 BMW M3 Coupe, boosting performance of the high-rev V8 engine as well as adding a lift-reducing bodykit and brake package. The Laupheim-based tuner has been modifying BMW's since 1986 both for motorsport use and personal individualization of road-going cars, and now this wealth of experience has been put to use for the latest M3 tuning kit.
The first level of tune lifts the standard output of the V8 (420hp and 400Nm) by 20hp and 25Nm of torque. This is achieved by an optimized ECU remap, which also removes the stock car's speed limiter.
Another performance kit is called the 'Sportkit HM/M +35'. As its name implies, the modified engine has an additional 35hp and 48Nm. In addition to the ECU remap, this stage of tune also has a stainless steel exhaust system. With the speed limiter now removed the car will reach a top speed of 320km/h.
Improving airflow around the car, Hamann has added front and rear spoilers, new side skirts and a shapely roof spoiler. The final touch to the exterior is a set of one-piece 19in alloy wheels finished with a high-gloss INOX stainless steel lip.