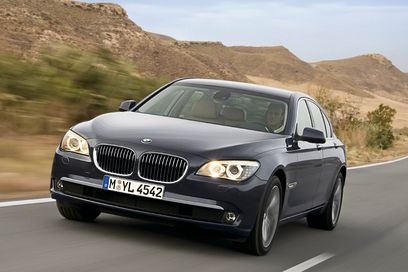 It's six years since the current 7-Series kicked off BMW's controversial 'flame surfacing' styling. With its avant-garde lines, typified by an abstract, jutting boot lid, the model divided opinion – especially in the traditionally conservative executive saloon class.
We took pre-production cars powered by each of the three launch engines on a handling circuit, and initial impressions were overwhelmingly positive.
Drive Dynamic Control comes as standard across the range. It lets the driver quickly select from four modes: Comfort, Normal, Sport and Sport+. Each changes the steering, damping, throttle response and gearbox settings to alter dynamics – and the differences are tangible. In Comfort it's as cosseting as any model in the class, but in Sport it dances from point to point like a much smaller car, feeling impressively agile.
Optional rear-wheel steering is well judged, too, improving turning response at low speeds and increasing stability when the pace is upped. Double-wishbone suspension keeps the saloon composed, aided by an active anti-roll bar which tightens up depending on the roll angle of the car.
Each of the three launch engines is an improvement over its predecessor in every area, too. The 730d – set to account for 85 per cent of UK sales – is powered by a brand new 3.0-litre six-cylinder diesel, and has more torque, lower emissions and better economy than the outgoing powerplant.
Equally, thanks to the maker's eco-friendly Efficient Dynamics package, the two petrol engines – a 3.0-litre V6 in the 740i and a 4.4 twin-turbo V8 in the flagship 750i – also trump their predecessors.
As you'd expect, standard kit is generous. Even 'basic' cars get the latest second-generation iDrive, which banishes all memories of the fiddly original version and features full Internet access – an in-car first. Other standard equipment includes dual-zone automatic climate control and a 'soft skin' dash material, which emulates leather. Plus, there's an 8GB hard drive for music, and a pre-installed copy of the owner's manual, searchable via iDrive. The HD screen is huge, too, while the car even has its own dedicated call centre.
If you raid the options list, some pretty fancy kit can be added. This ranges from a heating and ventilation system that can be adjusted via mobile phone to a four-zone climate control system. There's a full complement of massaging chairs and a side-view camera for parking and at tricky turns.
Also available is a lane departure warning system, plus heat-sensing night vision and a camera that reads speed limit signs and displays them on the dash. All indicative of a car at the top of the technological tree.